Klosterstrasse 34, Düsseldorf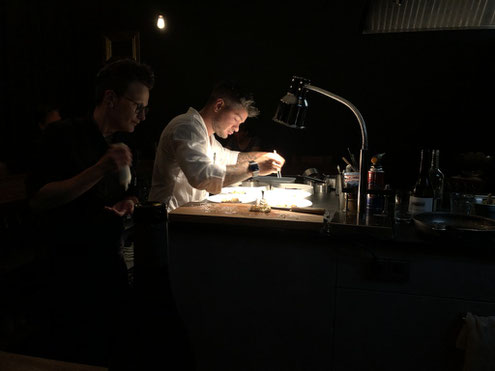 ProWein 2018 Kick-off at the NENIO in Düsseldorf
Master Sommelier Hendrik Thoma presented Pearl Morissette wines from Canada and invited François Morissette himself to talk a little about his wines.
Michelin star chef Bastian Falkenroth created a great menu while the accompanying wines were all from Pearl Morissette.
Great menu, great wines, great talks and a very good time!
Thank you Basti, Hendrik and François!!!
14 Jun 2018
An illustrious evening at the NENIO with Pushi at the stove. German products with oriental interpretation. Varying quality and depth in the dishes but tasty. Learned a lot about Persian cuisine and there were very interesting experiences texture wise.
Basti at the bottles spilling drops until everyone was filled to the upper lip. Thank you, guys! Fantastic evening!
22 Jun 2018
When you go to visit Basti at U das Restaurant and get treated with snacks from the new menu at NENIO. Thank you!!! 🙏🏼🙏🏼🙏🏼 And then you have a Michelin star-worthy melon tartare. Mind boggling!
29 Jun 2018
Almost over again but this was the perfect lunch on sunny and hot summer days. This is the Chef's choice Ceviche mixing all types of fish and seafood for a delicious and healthy dish. Normally, not really my favorite selection but grab it while you can. Last day tomorrow!
Refreshing acidity and high end product quality all packed into a Peruvian inspired bowl. It's not Poké, it's better!
---