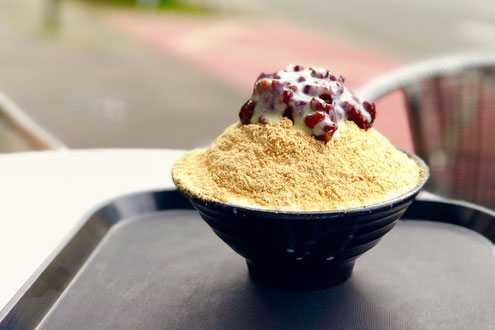 I know the Namu Café very well. Mostly because it used to be my dining room before the 485 Grad became my new go to spot. Back when Howie Karimie managed the Cucina Farina with Marsi at the oven. When the best burgers in town still came from here and I was a regular.
Things change and Namu Café took over the place leaving a lot of the old interior intact. It's a Korean style café and it offers Patbingsu (팥빙수). When it opened I gave it two years to default but I seem to be wrong. It has passed me that there is a strong community of ExPat students that do not even belong to the regular Korean community here. And while Pozangmatcha was becoming a cult location amongst gastronomy staff, it never occurred to me that there might be a need for a Korean café. Japanese maybe but Korean? Furthermore they offer Patbingsu and other Bingsu styles which might be a bit odd for European taste.
Bingsu is basically ice chippings sweetened with sugared condensed milk and in this case topped with cereal powder. The Pat is the red topping you can see on the picture and it's made up of Adzuki bean paste which is a very popular ingredient when it comes to sweets in Korea.
It might be strange to Westerners but it sure brings back a lot of childhood memories. And what I really like about it is that it's unique (in Düsseldorf) and authentic. So if you want to have a taste of traditional Korean sweets and a decent cup of coffee you should go and check it out.
I am still amazed that the place is actually crowded now all the time after having a bit of a rough start. Chinese, Japanese, Koreans and other foreign students tend to come here. You will rarely find true locals. It is a refreshing oasis in the ever growing locations of Asian gastronomy culture.
---