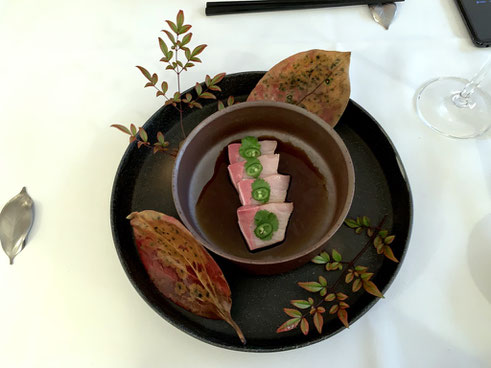 @hansc008 is back in town! And we have set up a date to have lunch at the Nagaya. I haven't been to Nagaya in a very long time. In fact, the last time I attended the Nagaya it was still situated at the Carlsplatz and did not hold a Michelin star. The idea arose when we visited the Ronin back in Hong Kong and I had claimed that the Nagaya is actually better. So, now we want to put it to the test.
.
A lot of things have changed and I haven't seen the location from the inside since they have moved. It is a tidy room, mostly in white, modest, simple, pure but with a valuable feel.
The staff are now all equipped with a headset which I still find somewhat irritating even if it helps to improve service.
.
Let's cut it short and talk about the food here. I have had a lot of difficulties with Michelin stars lately. Not only in Asia but in Germany as well. So, here we are at Yoshizumi Nagaya's place. And I have always praised as probably the best chef in Düsseldorf. Probably since I haven't tried all the stars in Düsseldorf. Still. A very deserved Michelin star. Product, craftsmanship, presentation, seasoning. Everything is on point. Every single dish stands on its own. There are no filler courses and no experiments. A clear idea and structure with the necessary complexity without being overly intellectual. Bravo, Nagaya-san! This is how it's supposed to be and this is what I personally expect from a Michelin star.
---