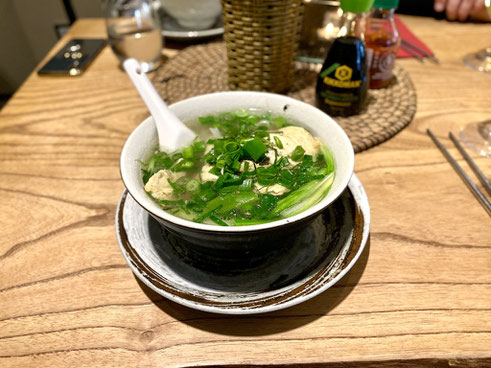 Hangover breakfast at this Vietnamese place in Essen Rüttenscheid. Cozy little restaurant with a tidy interior. Interestingly this place made 13 points in the Gault Millau and received a chef's hat. So for benchmarking purposes I choose my standards. Summer rolls and a nice Pho Ga for my hangover. I like the summer rolls and the tender chicken is surprisingly good. Fresh ingredients fabulously composed and put together. We wait quite a while for our main course and it almost seems like that joint is a two man show. However the service is very friendly and truly committed.
As for the Pho, I would have wished for more oomph with the stock. While not bad, it is missing (my favorite word) depth. In hindsight I should have asked how they prepare their Pho. Well, next time. It's not that easy and depending on how many servings you are actually able to sell, it is tough to deep cook your broth and have it on hand every single day. Additionally, it could have had a little more seasoning to it or at least with a little more confidence. Again the chicken in this Pho is probably the best I have ever had in a Pho.
Very nice place and I shall return! Lovely and if you're around you might wanna give it a try if you like Vietnamese food.
---