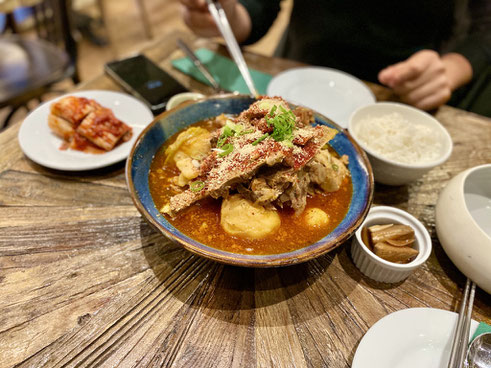 Dinner time and Zonk and I wanna snack something before we head to a birthday bash. Time to check out the Mohae which has opened just recently. The Dit on Dat is history and another concept is trying its luck. Café and Korean Tapas Bar is the motto and we try a potato stew and have some of their skewers (꼬치). .
.
The stew is nicely done while the stock could have had a little more depth and salt to it. The meat was very tender and tasty. It looks spicier than it is but that one was definitely enough for two. The skewers come at 4€ a piece and the pork stuff is overgrilled thus dry. However the seasoning is good while there could have been a little more meat to it. Would probably also solve the overgrilling since those slim pieces are well done in no time. The squid was really good and not overcooked while also not spicy despite its title on the menu. Tender and tasty though. .
I like the concept as it reminds me of the Korean pre-drinking spots with grilled foods to stuff up on before hammering down your soju and beers. Will need to come back to see what's what but so far a sympathetic concept while I don't think that mixing pork galbi with fries is a good idea. But that might just be my conservative ass. Randomly mixing Asian meat with European sides is neither fusion nor original in my eyes though. .
Sidenote, the wine selection is actually not too bad and surprising as you wouldn't expect something like that here. .
All in all I guess it's fair value and we'll see what they will have in stock in the future. Good luck on your ventures!
---