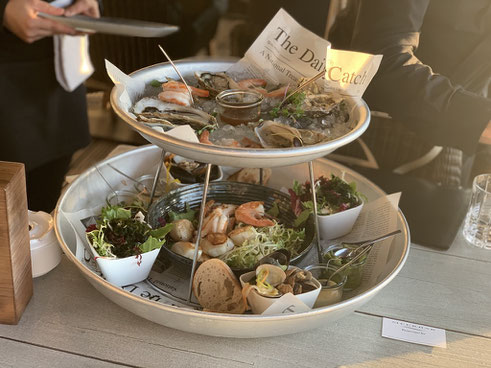 The Meerbar lies at a prominent place at the Düsseldorf media harbor area and has a spectacular view as you can watch the sun set and look at the Hyatt hotel, the Lido, and the small harbor basin in front of the Gehry buildings. In fact the Meerbar is situated in one of the three. 
With a huge terrace outside it lures people inside or at least to take a seat and enjoy the sun while it lasts.
Unfortunately, looks can be deceiving. And what a look that is. When you step inside you either like it for its whiff of luxury and pompous interior or you might feel it's just preposterous altogether. It is usually stunningly decorated and has a fascinating light concept. It's definitely worth to step inside and take a peek but I would rather recommend coming here during daytime to sit outside and enjoy the fresh air. 
The fresh seafood platter is solid while the rest of the Meerbar cuisine does not really convince me. Still it is one of the best spots to sit in when at the Medienhafen. It's a tradeoff that you have to make when you want to enjoy a really nice evening sunset, sitting down with service. Other places have either less view or less sun. The crowd here is not really my cup of tea and neither drinks nor the food have made me want to come back. Despite the beautiful terrace it is a place that I can easily do without.
---