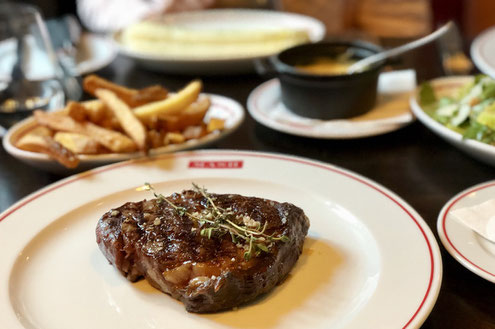 I have had the honor to meet Mikkel Glahn and Jesper Boelskifte on a night at the 485 Grad. I have also had the honor to meet Rienne Bilz on a totally unrelated event at my favorite wine merchant (LaVinesse). Still, I haven't been able to visit the MASH after we had been invited to the Café du Sommelier for various reasons.
It's not that I don't like the place. A lot has been written and said about the old district court building and the new restaurants. Steaks are interestingly on the rise but I do feel that especially at these kind of places they are way overpriced.
I love the interior and they have done an awesome job as it is cozy and inviting. What you don't see when you just stroll by, is that they have great seating opportunities and a little terrace to the inside and a view on the courtyard. Separées for private or business dinners are also available.
I have heard a lot of bad things about both the MASH and the Cafe du Sommelier, about allegedly bad food and bad service. I cannot confirm either. Well, service had some difficulties here and there but the food certainly was impeccable and utterly delicious. I also like the fact that they offer wines from the Coravin by the glass which change weekly. The product quality is high end and I absolutely loved the Danish dry-aged beef.
What about prices then? Well, I have to admit that I get sizeable discount of 25% through Mr. Düsseldorf. To make it clear, it's not cheap here but it's a lot fairer than what you would expect in a place like this. But you should definitely pack some money. On the other hand it is fair, as the food quality is superb and good meat is pricy nowadays. Even at the butchers
Definitely pay it a visit when you hunger for a good ol' piece of meat!.
02 Mar 2019
Stayed till they closed shop and had quite a few good laughs. Thank you, Rienne and Aline for your hospitality.
---