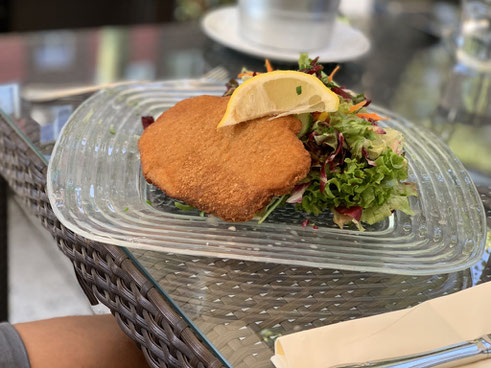 We have one last lunch before Hans takes his flight back to Hong Kong. We hit the Marli and I haven't been here for a while as I am never really in that area of town. They have a very nice wine list and always interesting lunch specials.
Claudia Marliani is welcoming us and she is in a very good mood and happy to see us again after quite some time. As the weather is still nice we take a table outside on their vast terrace but seek the shade under one of their big parasols.
It's salad with Wiener Schnitzel, Curry Wurst with fries, spaghettini with chanterelles and a classic Wiener Schnitzel with potatoes, peas and carrots.
Simple and delicious! While I often complain that most places are even able to fuck up the simplest of things. But here we are completely satisfied. My salad in fact is large and the homemade curry sauce for the sausage is delightfully good. The schnitzels are on point while I might prefer the panade in an even fluffier yet crispy style. Splitting hairs. Good quality price ratio and the service is super friendly and attentive. Only criticism here is that you needn't fill wine glasses all that high.
Franz-Josef Schorn joins us after a while as he has come around to pick up a delivery of bubbles and we have tarte flambée for snacks and to go with our wines.
We spend a wonderful lunch, afternoon and evening at this place and it's an unexpected treat to just sit here and have good talks. At the end I get a poached egg with homemade sauce hollandaise because I complain about how nobody in Düsseldorf is able to do proper Egg Benedicts. Mind you they don't even serve these at the Marli, it was just whipped up by Claudia personally from scratch because I was whining.
Thank you very much Claudia and Franz-Josef for your hospitality! It's been a grand day!
15 Nov 2019
Meeting up with Hans and Nils and as I've teased before we are having a beautiful dinner at the Marli in Düsseldorf. .
See for yourself. The goose came straight from the rôtisse and even local legend FJ was in the house that night. The wines I have already showed you.
Service was a bit stressed that night as it was crowded. Still we had a lovely night with good laughs and delicious food. We love the hospitality and the possibility to pay corkage for our own wines. .
---