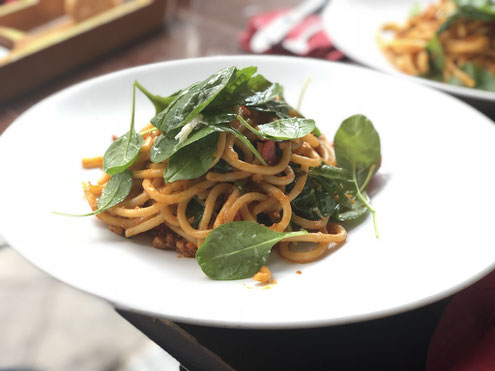 I come here far too rarely. The Kontor has been an institution for ages in Düsseldorf and is one of the best lunch options in the inner city area. Unfortunately, that's no secret and the place is regularly packed and waiting time has to be considered if you want to go there.
I have a lovely lunch date and we are lucky to get a table right outside of the restaurant which are very limited.
Making a choice here is also not an easy thing to do, as the variety of offered dishes is wide and international. While there is no clear direction as to cuisine you will find that 9 out of 10 dishes are very good. Even though they have everything from French, Italian, German, Japanese, Thai and what not.
After having a long and intensive look at the menu (I always do this. Even at Burger King while ordering the same stuff as always), I decide on the Pici "Bolognese" with parmesan cheese and spinach. Italian and it brings back a lot of good memories. There is no bolognese in Italy and in Tuscany (where the Pici come from) they would probably serve ragú cinghiale (wild boar). Still a delicious plate and once again proof that tasty cuisine does not have to be complicated when it's done right. No, it's probably not 100% Italian but still a job well done and a pasta dish that I won't complain about. And trust me I'm fast when it comes to tearing pasta dishes apart.
If you haven't been here, check it out! Lovely place with a Parisian bistro hustle and bustle feel. Great food! Hopefully, I'll make it back soon!
09 May 2019
Hans' last day in Germany and we go out for one more lunch. The Münstermann Kontor is always rock solid and has been successful for decades now. 
It is a very busy day and our Schnitzel and calf's head take some time. Probably one of the best Schnitzel in town. And while it may be classic I personally really don't like it when the cucumbers are completely drowned in cream sauce. No complaints about the taste but I could without the bowl and what felt like a liter of cream. The roast potatoes are one of the best I have ever had. I pick a piece of Fabian's calf head and reconfirm that the dish is not my cup of tea but I have to admit it is very well done and tasty.
The Cesar Salad is the only thing you could criticize as it's not what it says it is. Or at least it is a very different interpretation. The classic dressing is faint and while the chicken is tasty, it has a South East Asian style panade and comes with two dips. One being saté and the other a chili salsa. All very good but just not what you would expect as the menu states "Crispy Chicken" corn-fed chicken sticks leaving no clue that this dish might be very different from what you know.
All in all a very good lunch that left us all rolling out of that place. Delicious, always!
---