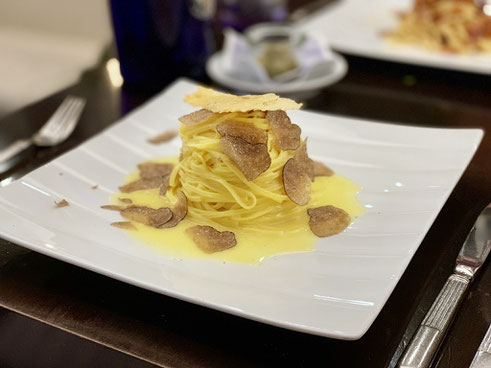 It's something like lunch time and I'm on the road with Zonk and we wanna grab something new and I suggest the Linguini since their pasta is supposed to be good. Remembering this place when questions like these come up is the hardest part since it's in an area where I very rarely come by.
The restaurant itself holds a modern interior with dark wood tables. And it definitely stands out when you look at the rest of the street. Apart from two other people sitting at the window side we are the only two guests but we are here at an odd hour. We are friendly welcomed and have a free selection of tables and we decide to just sit right in the middle.
Menu-wise it is a classical selection. We share Carpaccio for starters and Zonk chooses the Carbonara which is prepared with Guanciale (Italian pork cheeks ham) and I go for the Taglierini with truffles from Norcia. To make it short and simple, I would have one less problem if every Italian restaurant served pasta like this. Fresh, simple, good. The pasta is al dente and the sauce is on point. I can't see Zonk complaining and he's also very quick when it comes to criticize food.
Happy and fed we leave the Linguini and it won't be the last time that I had pasta here. An easy recommendation.
21 Feb 2019
Quick lunch with Lars at the Linguini. They offer a nice selection on their additional lunch menu and I go for the Spaghetti A.O.P. with gambas. I love the fact that the pasta is actually spicy and leaves a fizz on my tongue. The pasta is al dente and although you might think you can't do a lot wrong with A.O.P. you actually can. But not this time. Not here. Subtle garlic, salt and pepper in olive oil, some herbs and cherry tomatoes... life can be so easy sometimes. Good job! One of the best places for Italian pasta dishes around.
22 Aug 2020
---