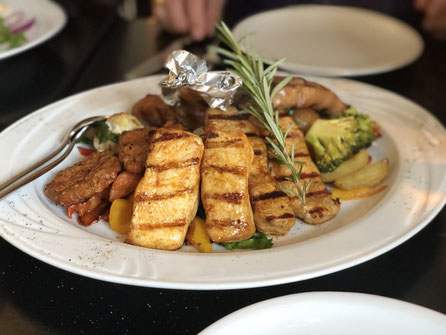 I've been wanting to come here for quite some time now and I took the opportunity to have Easter lunch with my parents here. Restaurants at the Easter weekend are somewhat complicated in Düsseldorf, so I was glad I could check off another restaurant from my bucket list since my parents enjoy Turkish food.
When you enter the room it doesn't feel oriental and the silver painted walls kinda irritated me. Alongside with the paintings on the wall which is supposed to be art, I guess. Sorry, I'm quite ignorant about art and I never had a feel for it, so please excuse if I don't find these paintings very appealing! Stylized animals in bubbly colors rather confused my eyes but then again that's just me.
We were pleased to find that they offered menus with a selection of mezze up front, meat or fish from the grill and desserts which was what we would have gone for anyway. As almost always I liked the mezze best. Especially the dips and hummus with their house baked bread which was really delicious. The grilled meat and the warm appetizers were average and to be honest I had expected a little more than just that. A little more seasoning of some special type to make it more interesting. I have had better skewers in Döner "restaurants". The baklavas were good but for me personally it's always a little too hard on the sweet side.
All in all the food was okay up to good but I had expected a little more than this.
---