Münsterstrasse 115, Düsseldorf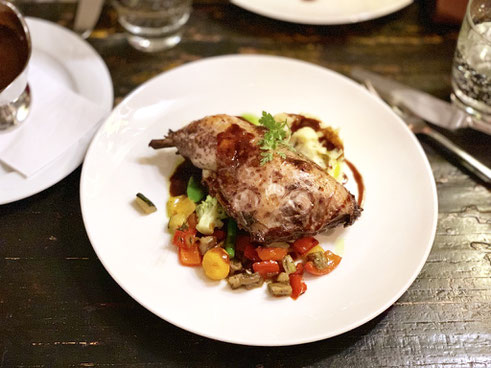 After having an opulent breakfast at Kim Phi and delicious cakes at Café Barré, I am having a date with Antonia and Axel at La Manufacture. I have been meaning to come here for a while, especially since a couple of friends of mine have recommended this place. The predecessor Le Local was not really one of my favorites while a lot of people actually loved that place. Much to my confusion.
The interior hasn't changed too much, at least not from what I can remember but I might be wrong since it's been a long time. They have closed down the room to the left of the bar which now seems to be a part of the kitchen now. Beautifully decorated with a bar in the center of the main room and lovely little accessories. I am a little early so I take a seat at our designated table right next to the bar and wait for my companions. Service is very friendly with a smile on their faces. The restaurant is slowly starting to fill and when my friends arrive we quickly decide on our dishes.
The fish soup with rouille is famous here, I'll start with it in order to try. It is definitely good and tasty but lacks some depth in the stock. I'm nitpicking here and it's a very good soup but I seriously don't understand the praise beforehand. The tuna tartare is a position on the menu that I don't really understand. It is obviously Japanese (influenced) and there is no obvious reason why it should be on this menu at this little bistro. Regarding the main course we all agree on the Coq au Vin. Very good coq with mashed potatoes that somehow stood out. Good job!
Not so nice, we waited for 40 minutes to get our soup and the main course took another 40 minutes. While the staff apologizes, I hate meager excuses. The reasoning is that the kitchen is not "rolling" after the Christmas break which does not make any sense. What does that even mean? Give an honest excuse or do not apologize at all. Bitter aftertaste while everything else was in good shape.
---