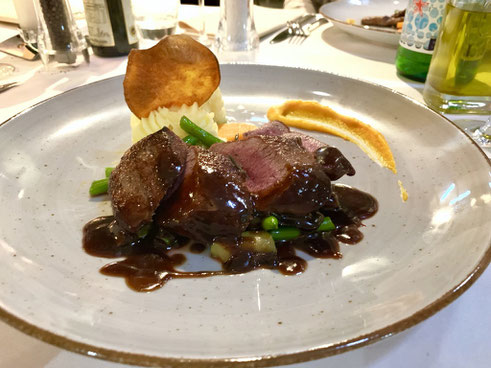 Very spontaneously I am invited to have dinner with a friend I haven't seen in a long time. He proposes La Cucina da Gino Leone or La Cucina as he calls it and from what I understand it is the former crew of the Rosati Due. I couldn't confirm, so please don't pin me down on that one. I know the place since I have been a guest of Claudia Marliani's and  FJ Schorn's Marli a couple of times before now.
It's a new building and there is a near terrace outside just to the left. There isn't much to say about the interior and it feels indistinguishable. It is not ugly but arbitrary and there is no real charm. At least it does not appeal to me.
About the food, well, it is ok to good. The ravioli are homemade and tasty and the meat is nicely presented but it doesn't knock you off your feet. Products are fine but prices are steep. Seasoning is ok but nothing is really striking here. All in all an ok job for rather ambitious prices. I have had better, cheaper.
---