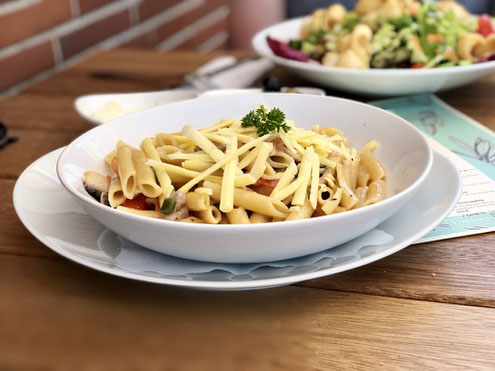 Finally, I have a day during the week in Düsseldorf and it's not a Friday. So, I call up my friend Lars to have something for lunch and we decide upon the L'anima. We have been here together with Stefania but not ever since.
The terrace is open and the sun is inviting, so I take a seat outside and study the menu. The L'anima is an Italian place, Sicilian to be more precise. Therefore the range of food varies a little from what you would usually expect at an Italian place. When you walk in the front door you walk straight onto their antipasti counter with various delicacies. It is all neatly presented through the pass you can catch a glimpse of the kitchen. The restaurant is sizeable and the owner's tried their best to make it comfortable even though they follow a clean style. Further into the restaurant you will find a bar but something you would more expect at the seaside outdoors with pretty little tiles in turquoise which leave a sense of the Mediterranean.
When it's time to order I go for the Penne Salsiccia (pretty basic I know) and Lars decides on a pulpo salad. We resist the urge to order a full flight through the antipasti although they look delicious.
I start to doubt my order when the Focacce (Sicilian style) reach the table next to us. Note to myself, I will order Focaccia the next time I'll be there. The period of regret is short as our food arrives at our table. Fresh, simple, delicious. Product quality is good and life can be so simple. Again, it's not haute cuisine but it's not supposed to be. It is affordable every day food that I could have every single day of the week. It's actually the type that I enjoy most. .
Espresso afterwards seems obligatory and after enjoying the sun for a little while we need to part ways and return back to work. Pity, life could be so simple. Definitely worth a visit!
---