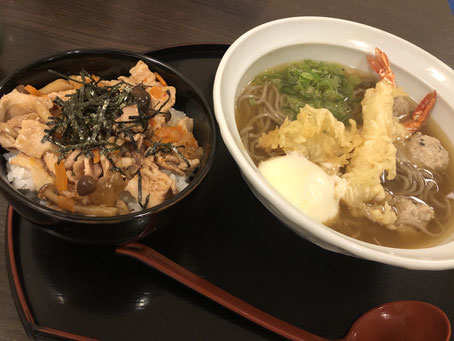 28 Dec 2017
I haven't been here for quite a while. I love the Kushi-Tei but you need to be prepared to come out totally smoked. Unfortunately they don't serve all the interesting Yakiniku goodies they have in the evenings. So, I stuck with noodles. Still great! 
15 Apr 2019
The Kushi Tei very rarely pops up on my radar but today I went in for another quick lunch. It is not as busy as usual but since I am the first one to enter everything is still relaxed.
After taking a glance at their lunch menu I decide to try their ramen which I've never had here before. So in order to find out whether or not that was a mistake I want to see what's what and if they are serving better or at least good ramen.
Good it was and the style is yet again completely different. The broth is not as loaded as the Takumi ones and it has a distinct acidity which is predominant. The soup actually tastes as if a lot of Kimchi was cooked out to create the broth. Which would explain the acidity as well. I like the cured pork and minced spring onions. The cabbage could be the source of the kimchi- like taste without the intense garlic aromas. As for the noodles they are fine yet again very different. Stickier and firmer in texture and a little less taste. All in all good ramen and a very nice alternative when you can't or don't want to have the usual ones for some reason.
I like this Yakiniku place and it offers so much more. I should definitely come here more often. 
02 May 2019
In what feels like more than 15 years I have returned to the Kushi Tei for dinner. While I had some lunches here in the past few months I hadn't made it out for a proper dinner. It's not that I don't like it but the ventilation was really bad back then and when you returned to the street you were basically deep-fried. This all changed a while ago and especially with their extension this is no greater issue anymore.
We order all kinds of Izakaya type food, from skewers, to California rolls, Teriyaki chicken and salmon, uni rolls and what not. Instead of wine we fall back on Asahi on tap and a very nice Sake which I can't read the name of.
All dishes (except for the grilled salmon) were on point. Delicious, traditional Izakaya food that you would find like this in Japan or even Korea. A way to sit and eat so many different dishes while filling up for the alcohol to come. The products here are high quality and very well put together. Well, the California roll again is a little messy but it tastes darn good. From the pickled cucumber to the grilled chicken, from the uni (sea urchin) to the Japanese fried eggplant (Agedashi Nasu) it's just proper, proper Japanese cuisine with fine seasoning and good complexity.
Again I wonder what took me so long to return to this place. To be fair, it's not exactly cheap as you explore the extensive menu but it is just so satisfying that you will thinking about coming back while you're still eating despite being full. Tasty and if you sit in the old part of the restaurant a truly authentic Japanese experience.
---