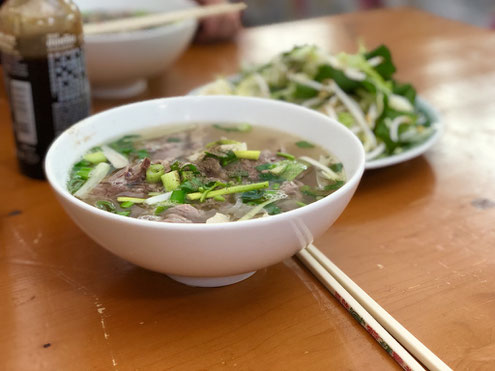 ExSum
Kim Phi is basically the synonym for Vietnamese cuisine. At least here in Düsseldorf. It's no longer a hidden gem anymore, yet still so bizarre that those who do not dine out on a regular basis mostly do not dare to give it a shot. In the far back of a Vietnamese wholesale you can find numerous providers of Vietnamese food who will offer their home cuisine during the day every Saturday . Actually, they are all Vietnamese families that showcase their culinary talents.  From phó, bun, banh mi, summer and spring rolls to bun bowls there is probably everything that your heart could desire.
If you can put up with sitting on benches, use paper towels instead of napkins and listen to corny 70's style Viet music, then you should definitely pay this place a visit.  A loving sensory overload and a piece of Asian streetfood market atmosphere. Strongly recommended!
07 Apr 2018
I only heard about this place recently as it was recommended by Alex and later Hiroki also confirmed that it was a good spot to get a Pho. You need to understand that I wasn't a huge fan of Pho which is based on the fact that the majority that are available here are plainly bland and bad. So it always tastes "healthy" but flat which is why I avoid participation when it comes to Vietnamese food.
Having said that and driving to the middle of nowhere into the industrial area of Flingern you will find this big warehouse which is a wholesale. So if you come here don't be irritated that you won't find a classic restaurant but tall shelves, fridges and boxes with exotic vegetables, canned foods, instant noodles, meat and fish. As you stroll along the long aisles you will find a separated section with an overarching banner that states something in Vietnamese. As you come closer you immediately notice the smell of Asian food and when you enter it's somewhat like a street food market somewhere in Asia. It is actually quite fascinating as you dive into a completely different world. It is a busy Saturday afternoon and you see tables set up showcasing different types of Vietnamese dishes as well as laminated signs with pictures of other food you can get there. Pho, Bun, Banh Mi, Summer Rolls and other delicious goodies that I haven't seen and tasted before. In the background there's cheesy Vietnamese music playing that reminds me of cheesy Korean "Pop" music that was ridiculously popular in the 60's and 70's. The source is a DVD player and you can see a band playing live on stage in what seems to be a restaurant or bar of some sorts.
Anyway, I was up for a hangover meal and ordered a Pho and we sat down at the beer banks and tables that are set up right across the food stands next to non-see-through construction site fence.
Finally the food arrived at our tables and I got a taste of a really good Pho. Probably the best I had in Düsseldorf. Not overall but still very good. So good in fact that when I think Pho, I will think Kim Phi. It is a curious place with lots of food to discover.
tl;dr
23 Jun 2018
Since my first visit to KimPhi I have had this craving for Phô as it was a revelation to me. At least for Phô in Germany. As I have stated in my last post from KimPhi, I never understood why people would eat that dish. It just did not make sense to me. Healthy? Maybe. Fresh? Sure. But delightfully delicious? Definitely not!
This time I took Lars with me in order to show him what a real Phô is supposed to look like and what peculiar places in Düsseldorf have coexisted for several years and somehow we had not taken notice.
Since my first post was a little longer, I do not want to bore anyone with the same details again. It still remains a peculiar place with the only significant difference being that that the TV displayed a Vietnamese TV show and not music from long-gone decades.
We shared some type of spring rolls and while he still distrusted the noodle soup and chose barbecued pork with rice noodles and salad. I went for the Bun Bo Hu and I was not disappointed. A deep, rich and umami broth with beef slices and lots of veggies. Fabulously good! Validation successful. While the outer appearance might not appeal to everyone, it is probably the best place to get Vietnamese noodle dishes in an undefined radius in and around Düsseldorf.
If you have a preference for this type of food, I strongly recommend to drop by and pay it a visit.
By the way, Lars agreed.
01 Dec 2018
Taking out Nadine and Ingo to Kim Phi. They haven't been here but they are keen as I have told them about it numerous times. As fate would have it they meet some other people they know as well. Despite my recommendation they go for some Vietnamese pancakes and big dumplings. 1-0 for them as they now have tried more different dishes than I have, as I always go for Pho or Bunh. Well, just like anyone else they love this place and it won't be too long till they come back.
15 Dec 2018
It's another round of Kim Phi. And unfortunately Hans couldn't join us. Our plan was to gather a small group and cut across the whole market. Nadine and Ingo have proven that it's definitely worthwhile. I have added a couple of impressions from the market for a change.
And while still nothing beats the Pho, taking a look around is not a bad idea at all. We will repeat this and hopefully gather some more people to have the "full" Vietnamese experience.
05 Jan 2019
And another round of Kim Phi. This time it's early because Oli has a game plan. So, another occasion to try new things and it's surprising how empty this place is when you get in early enough.
Nadine, Ingo and Alex are on board and we fill up.
You can actually observe that there are more and more non-Asian people are attending this place. I haven't known this location for very long but Oli remembers that it was neither that crowded and it was basically him as being one of the only non-Asians around.
While I love it being successful I look at it with mixed feelings. Getting a seat here is getting tougher and we will see how things will further develop. Although I won't see any queues in the near future.
06 Apr 2019
After our little nightcap we all met up at Kim Phi again for our "well-deserved" hangover breakfast. Boy, so good. Not much more to say than it was the right choice at the right time.
22 Jun 2019
Just another breakfast round at Kim Phi for a Phó. Wandering around in this little spot and still discovering new things every single time. Lovin' it! If only true street food culture was legally possible in Germany. There'd be so much potential... .
10 Aug 2019
After quite the long night Alex and I headed for Kim Phi to get our hangover cure.
This place does not need any introduction. At least if you have been following me for a while.
Phó on point and then some.
07 Sep 2019
Having breakfast with Alex at one of my favorite spots. Getting the Phó at the stand in the far left corner this time and a great kick start into the day.
30 Nov 2019
After a very long night out, I get the message in the morning that Alex wants to hit the Kim Phi. I gladly agree and join in with Zonk to get my well deserved breakfast. I think this is the first time that I do not immediately feel better after having my remedy Pho. Well, maybe 5 am and numerous bottles of wine and rounds of cocktails were just too much. Just maybe. It's not the food's fault. Still tasty and good.
04 Jul 2020
---