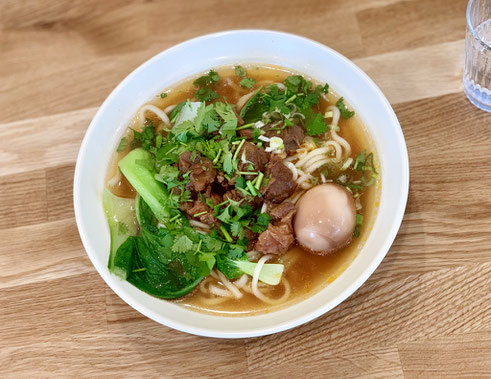 New Chinese kid in town and Fabian and I decide to give it a shot. What you see is what you get. The big windows do not hide anything and one part of the kitchen sits in the corner in front of the windows. Trying to spend comfort and reassurance that everything is done in a proper manner and that they've got nothing to hide. The room has a clean style and is reduced to the minimum. Not necessarily a bad thing but not very cozy either.
We order noodle soups and share Jianbing which you don't see very often around. The stocks are okay at best but not very deep. They miss richness which is probably due to the fact that they are not cooked long enough and without the adequate amount of herbs and spices, so it's a bit bland. The noodles seem indeed homemade. They are on the softer side but don't add to the taste experience. The fresh coriander and spring onions don't do the trick either. The meat is of mediocre quality and the minced meat lacks seasoning. The Jianbing are interesting and very fairly priced but then again it's not a revelation. I like the miso paste they use for the inside but apart from that it lacks taste in general. There is no harmony in the composition.
It is a rather disappointing visit. It's not outright bad especially when you consider the prices but then again I'd rather spend a couple of more Euros and have a much more convenient experience.
---