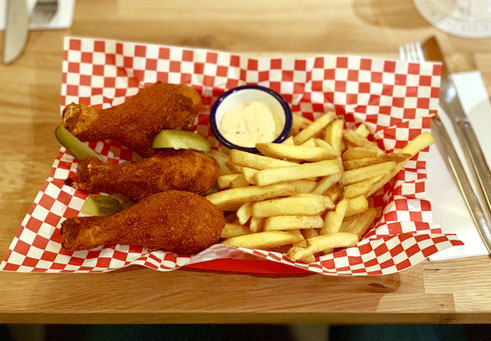 New kid in town and it's chicken finger lickin' good. As some other chicken place would say. Fortunately things are a little different and better here. But first things first.
It's the old Ratatouille on Nordstrasse and when you enter you will find a light-flooded room, pretty clean in style and very white. Which is not a bad thing while slightly sterile and not hygge. However I have been told they are still working on their lighting concept and will adjust.
They brew their own Alt beer and they're still working on their recipe. I am looking forward to tasting the final version. The wine list is also pretty long as holds some interesting position while pricing is mostly fair.
I order the drumsticks with fries in their spiciest version. They use a rub and a lot of it, too. For me personally there's still headroom regarding the level of fire. However due to the amount of rub they apply the chicken appears dusty, even though it's not. The chicken is tender and juicy as it's supposed to be. The fries are good and I like their dips. Service is extremely friendly and helpful and I am confident that they will figure out the minor glitches. I'll come back and see. Until then good luck and good business!
15 Feb 2019
Return visit at the Hitchcoq for another round of drumsticks and an extra wing with "Lord have mercy" rub. They have modified the recipe for their top notch hot rub because people fed back that there was still enough head room without making it ridiculously hot. So yes, the recipe has become better as it is hotter and does not leave a dry feel anymore. Hard on garlic and a little low on salt but it could've been my personal constitution that I craved more salt than necessary. Loved the fries and their homemade yuzu mayonnaise.
The chicken meat is tender and cooked perfectly although it was striking that the food took quite a while and it wasn't a matter of the place being overcrowded. Well, we weren't in a rush so it didn't matter.
Retried the homemade Alt beer they brew and it has become better for me. The recipe hasn't changed but it has more time to develop now and somehow that takes out the bitter and slightly burnt notes out of the beer. Definitely a good option.
Also tried the Jet Black Heart by Brewdog and Béno by Fluegge. The latter with a touch of natural wine meaning some similar aromas while the jet black heart was rich with a chocolate flavor.
Yet another fun stop at the Hitchcoq and a decent spot to get your chicken fix.
19 Apr 2019
Still on tour with Nadine and Ingo and we're getting hungry. Since I wanna keep it simple I vote for the Hitchcoq out of several options. The last time I've been here was around Karneval and I have to admit that despite all that criticism I like that place. The two brothers Fabian and Benjamin Schmidt-Pereira have been nothing but kind and open-minded hosts and I value their hospitality.
Good news! What was good before has become gradually better each time I visited the place. The rub has less garlic, is hotter and does not dust your mouth anymore. Don't get me wrong I love garlic but there is still a fair amount in it but you won't leave as a global vampire defense mechanism anymore. The best part is that the rub now harmonizes way better with the ever soft and tender chicken. Loved the chipotle mayo as well. Better choice as the Yuzu mayo has trouble to stand against the "Lord have mercy" rub.
Their Alt(fred) has stabilized and still holds a lot of roasting aromas. But definitely a genuine new Alt that holds its own.
And then we had some natural wines. Still find most of it difficult but hey. You need to try every once in a while.
---