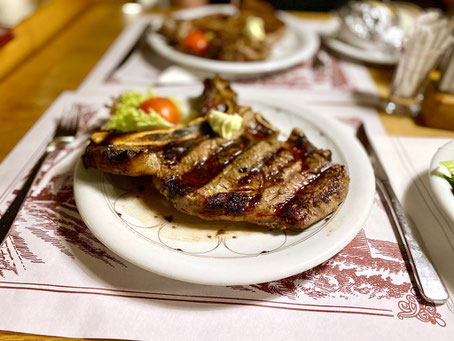 I am meeting Helge, an old sports mate that I haven't seen for a couple of years and he wants to grab some meat and I choose the Gut Jägerhof. I haven't been here in a while as my hunger for steaks in restaurants has significantly dropped as you can buy premium qualities and grill them pretty easily yourself. 
The Gut Jägerhof is probably one of the first restaurants that I've visited when I was little thus some of my earliest restaurant childhood memories stem from this place. My parents used to take out friends, guests and visitors to this place to get a steak as it was known for good quality and fair value. 
Upon entering I realize that almost nothing has changed. The former barn with its add-on wing to the side is as it has always been. There are some decorations that remind you that this place was in fact a barn and gives off a warm and country feel. It is a huge place that is able to host many, many guests and the vast terrace with a view over the countryside makes it a unique place. It is hard for me to say whether or not this place should have had some kind of overhaul but as I am the nostalgic type I am content that places like these still exist. It is still packed and turns many tables throughout the whole day. When seated I discover that even the menu hasn't changed a bit and that the menus itself still look the same as more than 30 years ago and the placemats are the very same ones. You could argue that standstill is moving backwards but I like it for the aforementioned reasons.
It's a German steak house with a lot of meat and sides to choose from and we both opt for the "Gutshofsteak" a 600g (21oz) entrecôte bone-in with fries and a salad of the day. Prices still seem fair and we're not unhappy when that massive chunk of cow lands on our table. So, what's the verdict here? Tough one. Although I still love this place I have to say the quality hasn't necessarily dropped even though some people argue exactly that. Some 30 years ago this was top notch quality in terms of meat but now that we have seen the introduction of awesome meat from all over the world the awareness and the very definition of what constitutes a great steak certainly has shifted.
The steak itself is mostly grilled on point and gets raw closer to the bone which doesn't come as much of a surprise. The fries are ok and the salad is a plain and simple salad. You can't really complain when you put the prices into perspective. If you are a real meat lover then you'll probably run into some difficulties. There are much better steak houses out there but they all come with a price tag. Of course, I never trade off quality for money but my heart still hangs on to this place. My personal opinion is that they haven't dropped in quality but time wasn't much of a friend to them as the world outside certainly has developed. Hard to see when you just get overtaken by time but then again as the place is still packed I guess there is plenty of room for a concept like this. It's just that I've grown out of this for sure.
---