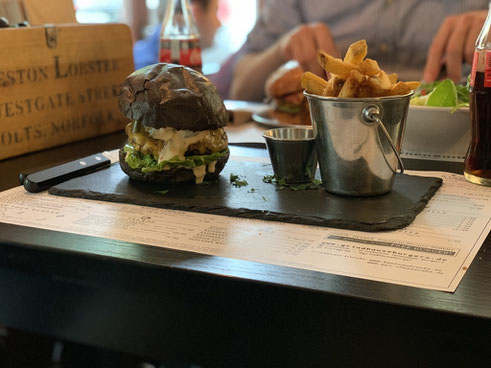 Lunch time with Lars and after a long night I crave a burger. Usually my go-to option is the Bob & Mary but he suggests something different. Both our last visits were more than five years ago. Maybe even longer when the burger wave was in full effect in Düsseldorf.
The place is well attended around noon so it seems that business is running well.
A visit at the Grindhouse was a rollercoaster ride back then. Sometimes it was grand and sometimes it was just a blackout.
Time to give it another shot then. They still separate their burgers into two groups: regular and entrecôte burgers. I go for the latter (Chili Cheese Porn) which are slightly more expensive. Medium grilled with fries and sweet chili mayo.
Great burger! Medium is rather a medium-rare but it's better this way round than having it grilled to shit. Tasty dry-aged beef with a robust and rougher texture, good seasoning. I like the color of the black buns but that's more of a gimmick. Fries are good and the sweet chili mayonnaise is homemade and could have more oomph but apart from that no reason to complain.
It's not the best burger in the world but it sure is a very good one. Service is friendly and competent (which wasn't always the case) and the restaurant itself is still looking good in black and white ranch style.
I shall return.
---