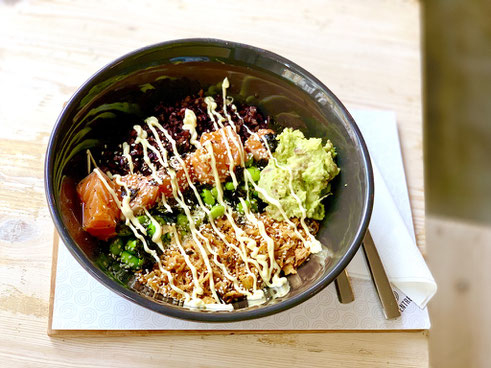 This little place has been here for a while and even though it looks very inviting from the outside, my hunger and lust for something "healthy" is rather rare and so my visit is somewhat late. However having spent two hours at the gym, I don't feel like stuffing burgers, Ramen or pizza into myself, so I go for green.
I have had my fair share of (poké) bowls in the last few weeks, so why not benchmark a little?
High and large windows give sight to a light wooden bar and a clean design. It's a light-flooded oasis and I am not much of a feng-shui believer but the place oozes something very calming and quiets my mind upon entering.
I am greeted friendly when I go in and I order the OG, the classic Poké Bowl. After a short while the bowl arrives and the first thing I notice that it is very neatly prepared. All straight in parallel lines with a mayonnaise finish. The latter is something I find somewhat irritating on something that is supposed to be so lean and clean but I have to admit that I like those light mayonnaise dressings. It doesn't look just bwarfed into the bowl, so my appetite rises mixed with some hesitation not to destroy and mash up those perfectly aligned ingredients.
The taste is a pleasant surprise as finally the incorporated ingredients are of good quality and the whole composition tastes good and well balanced. It's not some muddled mixture of indiscriminately components thrown into a bowl but a real recipe. An idea. And no, Poké Bowls will never be something extraordinary or highly complicated but there are differences. Most places fail even at providing a decent quality rice which is ridiculous and just shows the level of care- and soullessness. The greentrees breaks out of the rhythm of trend surfers who just try to make a buck on the "next big thing". Try and taste one of their bowls. It's not a revelation. By definition bowl almost can't be. But here some effort is involved and you get a nice carefully composed dish where you can taste the aromas of the ingredients and the balance of rice to remaining ingredients and dressing are in very good balance. Tasty!
---