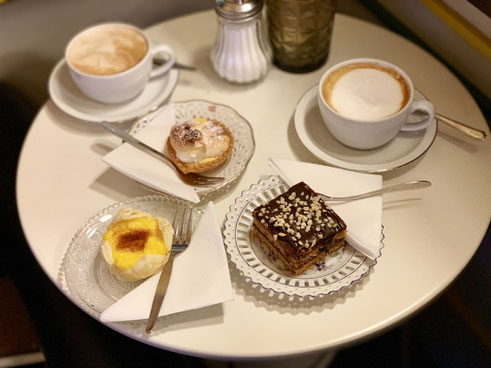 After having a large lunch I do not want to renounce dessert and Nadine and Ingo propose the Frl:Buntenbach. I have visited the Don Melone many times but for that very reason I've never made it to this place. Another tiny spot right next to the "almighty" and highly overrated Frida.
There's a first time for everything and I have to admit that I am slightly disappointed when I enter as this café actually looks nicer from the outside than when you get in. But that might just be my personal view.
Inside its's a big counter and a couple of tables and lots of cushions to sit on the window sill with small tables. Charming with the flair of a girly living room.
There are several cakes on display and other little delicacies that you can choose from. All self-made from what I understand. To add a little bit of nostalgia you can buy little sweets in little plastic bags just like you did at a Kiosk as a child.
Coffee is solid and it is a nice spot to sit at. While I'd prefer it in the summer on the terrace.
---