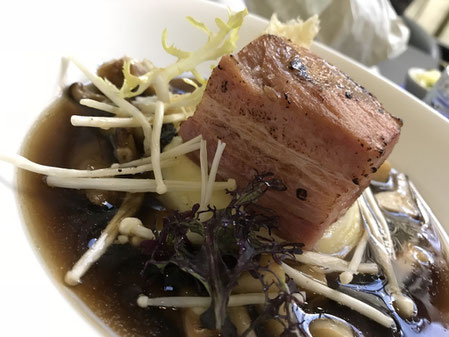 Benjamin Kriegel was able to acquire the highly coveted Michelin star after just one year at the Fritz's Frau Franzi. This didn't come to much of a surprise for the fine dining community in Düsseldorf and when you look at his CV it seems like he was destined to get the high honors of a star. 
After basic chef training he started at the 2-star "Résidence" in Essen and went on to cook alongside Christian Jürgens at the "Überfahrt" at Tegernsee. He was part of the team that finally gained the 3rd star and went on to come to Düsseldorf to work as a sous chef at the "Victorian" under Volker Drkosch. 
In 2016 he became head chef of the Fritz's Frau Franzi and enriched the culinary scene in Düsseldorf with his finesse and reduced style.
The restaurant belongs to the boutique hotel "The Fritz" and is lovingly decorated and gives off a warm feel. The decor is beautiful and inviting and whispers to stay and feel welcome. Ramona Leinweber is leading the service as Maître d' or restaurant manager and makes sure that every single person comes and leaves with a good feeling. It's a beautiful place with an extraordinary cuisine and a welcoming staff to make every visit as pleasant as possible. Check it out and dine at one of their tables right in front of the kitchen so you can peek through the big window and watch a perfectly oiled machine work in almost complete silence and precision. 
---