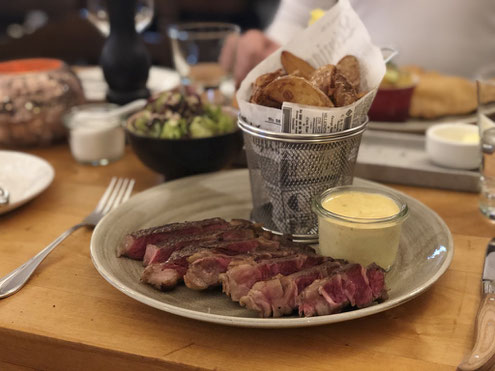 Sunday dinner at Fleher Hof in Düsseldorf
Txogitxu with housemade potatoe wedges. Hidden in the middle of nowhere a little gem appears. It's probably well known by the people that actually live in that neighborhood but I'm not around much since it's a rather quiet residential area. So, this place came actually as a recommendation by Christoph and since Zonk and I had nowhere else to go we gave it a shot. In fact he lives right around the corner in 10 minutes walking distance.
A small but fine menu and a 3-course-menu suggestion await you. Filled with classics but it's rather surprising that they would offer Txogitxu. And at a very fair price.
When you enter the place it's a lot like you would expect only more modern. And again nicer than the house itself suggests.
Very friendly service and to top it all off a decent wine list with a couple of ambitious wines. Pricing however is a little wild. Some are very fair, some are weird. Nevertheless rather surprising and for me personally a relief. As the food is good you can even enjoy a nice glass or bottle of wine while most of these type of places only offer beer. Or basically three wines: red, white and rosé.
The steak was good and as you can tell a little too much on the light side even though I ordered it medium rather than medium rare or rare. I liked the housemade wedges and a light béarnaise with a good salad. Sad that I need to mention it but salads are becoming worse in my eyes. Especially when they're just served on the side.
They offer a variety of sorbets that they create themselves of good quality and taste. All in all a definite recommendation. If you're looking for a nice place to have good "Hausmannskost" with decent wines you'll have to pay a visit. Call in advance as it seems to be very well frequented.
---