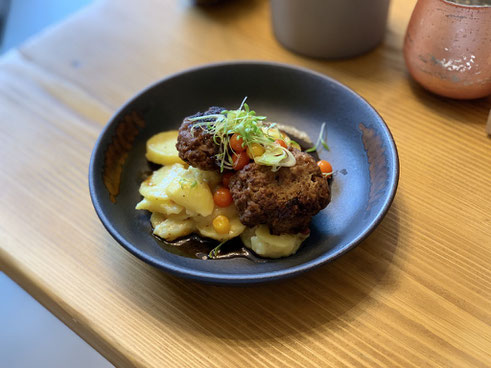 Dine & Dash with Zonk at the Finn's. Ever since the place opened I wanted to come here but somehow I didn't have the right opportunity. I'm never really in that part of town.
Here I am for lunch at least and I have meatball on potato salad. I actually like the fact that the portion is not too big and is just about right for people who sit at a desk all day. For 11EUR it's not cheap but definitely reasonable. The meatballs are okay but don't really stand out. While that is a hard job to do with that product I somewhat expected a little more finesse in whatever way. The texture is very fine and it's a matter of personal taste whether you want it that way. Personally, I prefer it a little more chunky but that's just me. The potato salad is on point. Perfectly cooked potatoes with some bite to it and a nice acidity and an herbal kick.
Very short stop here but I will come back in the evening and take a closer look at their menu and what else they offer. Service is very friendly but a little intrusive at times. Nice little place with an interesting wine list that is priced on restaurant average with a multiple of 3.5-4.0. I shall return.
19 Jul 2019
Time to revisit the Finn's after months and take a closer look at what's what. The suggestion actually came from Jasmin and Linus and I gladly tag along to join them for a culinary ride. The restaurant, of course, hasn't changed and many tables are occupied. We sit down at a table right in front of their big window so we have a good overview of the whole restaurant. .
We kick it off with the spicy potato with ham which is a nice starter while it basically lives from the exquisite chorizo they use. Simple but very tasty and satisfying. The rest we share more or less with each other and so we order across the whole menu. Pork belly with rhubarb kimchi, scallops with green asparagus, red mullet and pulpo with beluga lentils and ramson, asparagus involtini with chanterelle and mash, rack of lamb with polenta, corn and vegetables.
To make a long story short everything tastes good and is on point. There are no mistakes and errors but sometimes I miss that extra kick. Whether it be seasoning, spiciness or play of textures. Then again I have to remind myself that this is not a Michelin star restaurant. I like what they have done with all the ingredients and how they are all well prepared or e.g. that the vegetables add another layer of acidity and that every component has been carefully prepared in order to lay down another brick for complexity. And still, in the end it doesn't become bigger than the sum of its parts for me.
The kitchen is very busy and even with three people you can feel the hustle and bustle while we actually wait quite some time for our three main courses.
Hermann Stoeckmann however is a fabulous host and he alone is reason enough to return and visit again. The downside is, that he's not always the man of the house. But from what I've heard Stefan Chmielewski and Johannes Engelberg will make some guest appearances. 😉
Thank you everyone! It's been a wonderful evening!
---