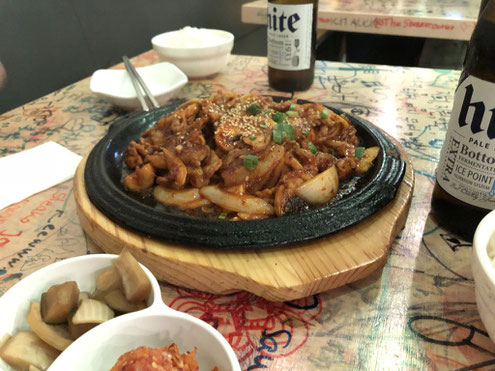 ExSum
If you try to translate Pozangmatcha literally you will get something like sheltered vehicle and thus describes a street food stand or truck which serve classic Korean street food and alcoholic beverages at night. Sometimes you will find a tent right next to the stand or truck where you can sit down to have something to bite and/or seriously drink. 
The Pozangmatcha used to be a hot spot for people working in the gastronomy as it was opened from 22h-6h in the morning and offered all sorts of Korean deliciousness till the break of dawn. 
Unfortunately the place no longer looks like a typical German bar and was just called the Finanzämtche (little revenue office) while being throughly Korean in all other aspects. The modern lamps, lighting and the wall decoration now feel more like Berlin. Still, the food is good and seduces you regularly to a hefty round instead of pizza, döner or burger.
16 Jun 2018
When you're out with Fabian and had a couple of glasses of wine and don't want a Döner to close out the session, it is very probable that you will end up here. My last couple of visits were a little bit disappointing as I felt that somehow that it wasn't as good as it had been before.
This night on the contrary. Exactly what I needed. Hot, spicy and umami. Everything you know and love about Korean cuisine.
Killed my hunger and satisfied my battered tasting glands.
Well, in the end it seems I am a little bit Korean after all. Good job, you guys! Hangover food before the hangover at its best!
28 Feb 2019
After a round at the Eiskeller Bar we are hungry again and hit the Pozangmatcha. Haven't been here in a while. Loving it though. And we have the usual stuff. Kimchi Jeon (김치전), Dweji Bulgogi (되지 불고기) and some Haemul Jjambbong (해물 짬뽕). Very satisfying and very good indeed. One of the better days here. Or maybe we had a little more wine than usual. Hardly imaginable. But who cares. Still love Korean food after a solid round of wines.
25 Aug 2019
After a nice wine tasting and partying at the GAP Lars, Stefan and I walk over to the Pozangmatcha. Haven't had Korean in a while and with all the alcohol I really crave some nice pork belly.
Somehow I end up ordering the same stuff every single time. 😂😂😂 But it's so delicious. Needless to say that the place is crowded as fuck even at 2am.
So, pork belly (되지 불고기), Kimchi Jeon (김치전) and Mandu (만두) it is.
Felt so relieving and helped me to get a really good night's sleep. 😉
10 Nov 2019
Headed from the Wein Herbst fair straight to the Eiskeller bar for a few glasses. But since I had nothing to eat all fay long I was really hungry. So, I dragged Alex along with me to the Finanzämtche for some comfort food and my usual menu. Dweji Bulgogi (되지 불고기) and Kimchi Jeon (김치전). Can't even begin to tell you how good it felt after a long day at the fair again. Sittin' there to have some booze food and grab a beer after all that wine.
Do I need to say that the place was crowded and we were barely able to catch a couple of stools at the bar? The food was delish and on point. Fortunately, they haven't halved the size of the Jeon as they have at the YoGi. Still sooo good!
04 Jul 2020
03 Sep 2020
---