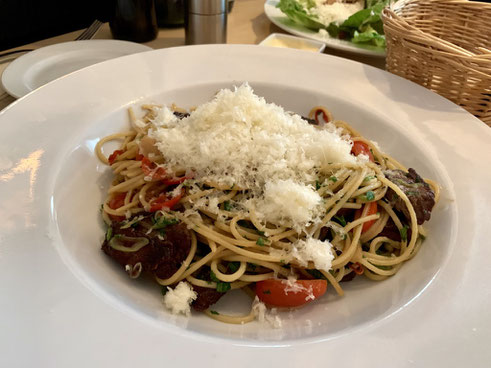 The Essbar has opened shop and I didn't even know for a while and it's sitting right next to the Dong Wu on Kaiserstrasse. Olga and Daniel have taken their time or let's say they have had some trouble finding the right place. So, there it is! After giving up their spot on Pionierstrasse where the Sul Sul is now located it got quiet for a while.
When you go inside you will pass a connecting room with a bar and couple of stools to the right facing outside. Actually, it's probably my "favorite" spot in that place. The guest room is well-lit with comfy furniture, although I don't get the color concept. Unfortunately the view to the kitchen on the very far end is blocked by an opaque glass window and I assume it is for olfactory purposes. Still a pity but I understand.
I am just grabbing a quick lunch with Lars and find this pasta dish with filet tips. I cannot find fault with it, the pasta is al dente and the meat is on point, all well seasoned but rather one-dimensional. I haven't expected any fireworks from this dish but it makes me wanna come back. Congratulations, Olga and Daniel! It looks like you place is buzzing and on a very good way.
28 Feb 2019
Just a Dine & Dash and lunch time with Lars.
It's filled bell peppers on rice with tomato sauce. Fair deal and tasty even though the tomato sauce could have used a little more finesse. Still a very solid job and a good spot to get lunch. You will always find something that will please your palate on their menu that holds many very different dishes. Business is sure picking up.
---