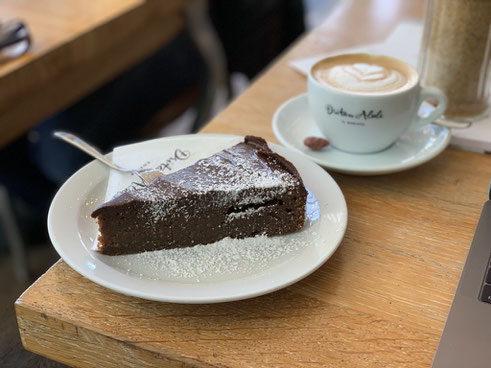 Can't believe I still haven't been here. The place has been around for a while and started out as a Bazzar café. A few years later it changed ownership and the Dritan Alsela was born. Well, the café. The man himself was born a little earlier.
Back from lunch I crave something sweet and decide to give it a shot. The place is packed and you enter a large light-flooded room with some interior accents that make the modern structure a little more coziness.
The coffee is the best I had in quite a while. Though I don't want to seriously judge since I like my cappuccini which is not the best way to benchmark coffees. The chocolate cake is delicious and not as heavy as it looks. Soft texture and no sugar overload. I could've done without the powder sugar but it seems to be necessary for decoration purposes these days.
They also offer a variety of lunch dishes and breakfast is supposed to be really good here. Need to come back to find out.
30 May 2019
Still looking for my perfect Egg Benedict in Düsseldorf and to save you the suspense I still haven't found it. I really had high hopes for the eggs here at Dritan Alsela as this place is absolutely packed when it comes to breakfast and the coffee is probably the best for me in Düsseldorf. But again it's hollandaise from the carton. The chives didn't taste like much, the buns were rather tasteless and the bacon definitely missed some crunch. This all actually sounds lot worse than it was but as I love Eggs Benedict and it's my benchmark breakfast dish I have nothing to give here. Disappointing because I expected more. Still I love the coffee and would also come back for the cake.
06 Jun 2020
---