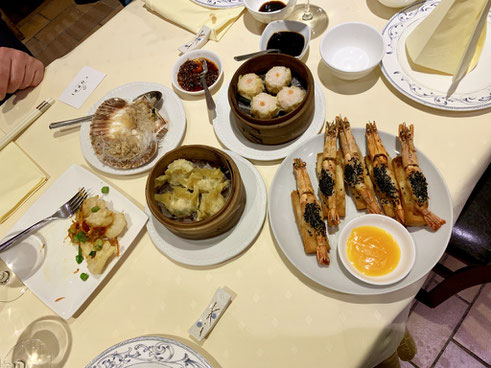 ExSum
Some of you might even remember this place when it was still called Shanghai and was located on Klosterstrasse.
Admittedly, the restaurant looks like a cheap fast food place from the outside. But since master Lau has left the restaurant, the place has been refurbished and modernized. It's a bit of a pity as the decor had its own trashy charm.
However, not only can you get a gorgeous peking duck which is absolutely delicious but dim sums of all sorts. Either truly classic ones or the so-called creative dim sums which you would rather not find like that in Hong Kong. No matter what you choose all of the dim sums are truly delicious and taste authentic. Almost as if you were close to Kowloon. Siu mai, baked prawns in black and white sesame on toast. Simply delicious!
30 Jan 2019
The Dim Sum Gourmet holds actually many memories for me. And I haven't been here since Master Lau left this place despite the fact I've always wanted to.
So here I am meeting with Nicola and Lars and I notice that the interior has changed a bit and the place has become more modern but apart from that it is still that little crammy place that does not look like much from the outside but boy are you in for a treat, once you're inside.
To make it very short everything is as good as I remembered it. The style hasn't changed and quality is still right there up top. Apart from the creative dim sums this is still a very authentic Hong Kong Chinese kitchen that seeks its rival here.
The scallop with glass noodles with garlic and ginger is pure garlic ecstasy without overpowering the whole dish. Jiaozi, Siumai and Wantan are perfectly hand-crafted and extremely tasty with good balance to all the seasoning and perfect texture. The spinach crystal dumplings actually do taste like spinach which is not always self-evident. The dough of the fried octopus is a little too thick for my personal taste but it is very well seasoned with peppers and szechuan pepper. When I try to remember the Peking duck I think it was better when I had it back then. But it is very hard to say. The meat is slightly overcooked and the skin is crispy but does not seem to be lacquered in some sweet Hoisin type sauce. It is still delicious but based on this sample I would suggest other places for the duck part. At the end we have a coconut dim sum filled with coconut vanilla cream which is a perfect ending for a formidable dinner.
All in all a fantastic impression which again leaves me wondering why it took me so long to go there again. And then I remember it is the fume system which works but since they have a partially open kitchen and a very small restaurant you quickly end up smelling like ebi tempura. BUT if you love dim sum there is no excuse not to go there. Bonus they have a tiny selection of decent Rieslings that pair very well with their cuisine. Grand night! I shall return!
13 Jun 2019
Alex is feeling bored and rings me up to come to the LaVinesse. Well, I had tried all the Lieser wines the day before but I never say no to a little company. Flocke is meeting up with her family and they all decide on having some Peking duck. Since Cooking Dad is closed the next best option is the Dim Sum Gourmet. I have had a really late lunch so I'm actually not hungry but I tag along anyway.
So I stick to two Dim Sum dishes and there are 3 Peking duck 5-course menus ordered. Which was hopelessly too much food for the three to handle. With all the deliciousness on the table I couldn't resist but stuff myself to near death and help the others with their food.
The baked prawns are on point as always and I can't visit this restaurant without having them. The deep-fried octopus with black pepper is slightly on the hotter side but very well seasoned and a tender octopus inside without being all oily. The dumplings of all sorts are always a treat and they haven't lost their Peking duck game. The skin is actually completely stripped from the duck and there are plenty of pancakes to fill them with the crusty deliciousness and the cucumber and carrot julienne. We definitely didn't regret coming here. We only regretted having had way too much food than actually necessary. But hey, there are worse things in life.
07 Nov 2019
Alex Loersch is in town and he craves some Asian food as it is not that common or available in quality at the Mosel area. So Alex and I take him out to the Dim Sum Gourmet. Well, actually we wanted to go to Cooking Dad but they were busy and had no more Peking Duck for us, so we had to look for other choices. The one that comes first to mind is the one at Dim Sum Gourmet. And they serve a wicked one, too.
12 Sep 2020
---