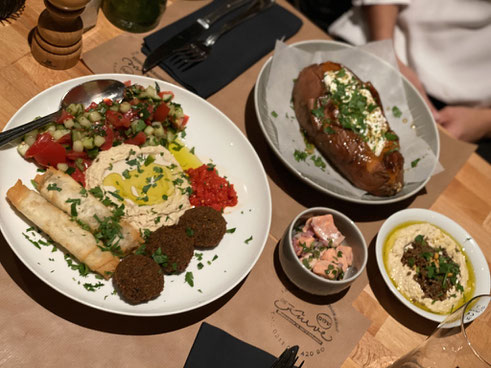 It's a Wednesday night before a national holiday here in Germany and Iris proposes to hit Die Kurve. Haven't been there in ages so I gladly agree. Now, checking their website I see that they have drastically changed their opening hours. Probably even years ago. I still remember when they were closed for sabbath from what I think was Friday evening till Saturday evening which made it difficult to come here with friends. I definitely need to find a way to put already visited restaurants on another list so it doesn't take ages till I revisit them. The interior hasn't changed all that much and it's good to see that it's very well frequented on this quasi Friday night.
The house claim is Israelian restaurant and Jewish specialties. My personal choice is close between the appetizers and shakshuka but I lean towards the appetizers with falafel, Israelian salad, zigarim, hummus and tehina. You can't go wrong with a plate like this. It's not a revelation but it's good products with good seasoning and craftsmanship. The falafel are small, crispy on the outside but fluffy and juicy on the inside. The zigarim are on point with a flavorful meat filling. Absolutely nothing to complain about except for the fact that service was in kind of a rush to take their last order. I get it was quarter to 10 but they could have waited three minutes without a hassle. Other than that, a really solid job.
Good to know that they're open now at the weekends with normal opening hours. Will have to return for my shakshuka and some other delicious plates.
---