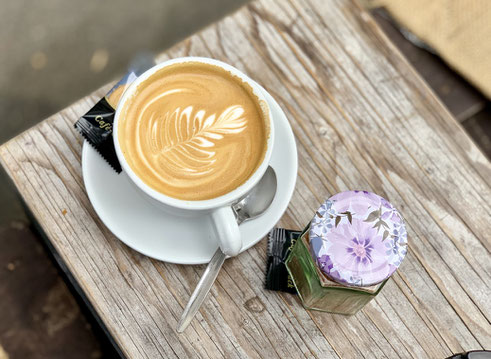 Lovely place in Pempelfort and a few spots outside. Upon entering you will immediately recognize the roasting gear where you can literally watch how the coffee is made at that place.
A very nice location to take a break while wandering the area around Nordstrasse. Take a stroll down Schwerinstrasse to take a deep breath and enjoy a good cup of coffee for a very fair price.
07 Sep 2019
Short break at the Die Kaffee in Düsseldorf. And we need to get a present, so we shortly stop by. What we didn't know is that there was the Schwerinstraßenfest and it looked like everyone was having a good time. Unfortunately Alex and I were just passing through for an espresso and cappuccino. Well, maybe next time.
You can book seminars and coffee tastings with Olga Sabristova at the Die Kaffee. Haven't tried it out yet but we will see when the present will be redeemed.
25 Jun 2020