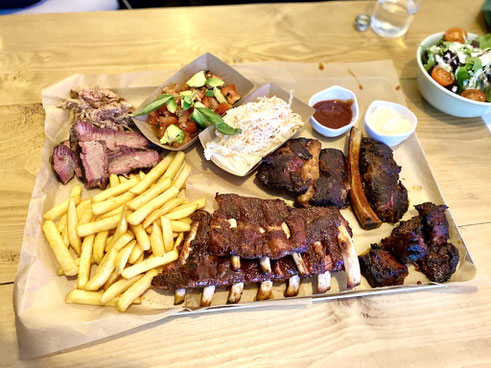 Another BBQ kid in town. Actually surprising but since this one is much closer to my home than Smoke BBQ I sure wanted to give it a try. It's right in my neighborhood and it has taken the place of a Tapas restaurant which I have never visited in all my time here in Düsseldorf. The interior is simple with some modern decorations and blue or turquoise is the theme.
When you take a look at the menu you will find anything a BBQ lover's heart will desire. Fortunately, they offer combo deals so Nadine and I don't have to get fixed on one thing and can share a full platter. It's burnt ends, brisket and beef ribs with fries, tomato avocado salad and coleslaw. The first thing I notice however is not how tender the meat is with perfect texture and a fine smoky note but the fact that we actually have to wait for quite a while. We're not in a hurry, so it doesn't exactly pose a problem but we are the only guests in the whole restaurant. Well, except for the group at the Kegelbahn but I assume that they had their food before we got there since we were pretty late.
Waiting time aside, there is not much to complain about. Loved the brisket, loved the ribs. Loved the burnt ends even more. Even though they are a bit on the sweeter side. Knives are definitely not needed at this place as you can part anything with your fork. The coleslaw is fortunately not overly sweet or creamy and the tomato avocado salad is freshly made. Since everything is finger licking good the fries actually fall off to the rest. They're not bad in itself but they are just standard fries that you can buy anywhere of decent quality. But somehow the meat would have deserved higher quality house-made fries of some sorts. The sauces they serve on the side are good, too. Service is very friendly and we definitely had a good time here. And no, you won't leave hungry. Will come back and have some spare ribs.
Very nice job! Something we definitely needed around here but American BBQ somehow is not in fashion. Unlike the huge burger trend a couple of years back. I'm not sure about the decor but hey if the food is worth it I really don't care. Will return. 
07 Jun 2020
---