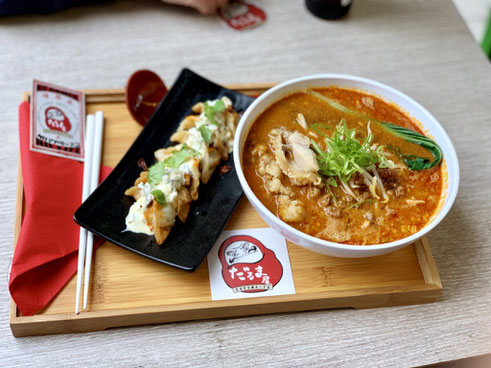 The Daruma-Ya is part of the Brickny which is why I have high hopes for this new joint located in Flingern.
When you enter the restaurant you will find the kitchen/counter to your right and you can choose from the laminated menus. The selection is limited and I go for my usual Tantan Men while Alex opts for the weekly special, a Yuzu Shio Ramen. He also orders a beer with some snacks and I want to try the hot gyoza. You receive a buzzer that tells you when the food is ready. Time to take a look around. When you follow the path inside the restaurant you will find another large room where you can sit and have your noodles. It is all decorated with these devilish looking or angry mini statues, the Daruma. Clean, tidy, colorful and loud is what I would describe this place. You will also find a small terrace with a couple of tables outside right in front of the restaurant.
Eventually our buzzer rings and we can pick up our beloved noodle soups. The noodles are cooked perfectly and are very tasty. The structure and texture are perfect. The stock of my Tantan Men not so much. It is not bad but it's missing the depth of the other broths that are around. Furthermore I really don't like those roughly ground peanuts in my soup. It dilutes the taste of the broth itself into a ridiculous Saté like something. My chicken is crispy but it doesn't stay that way for very long as it is floating in my soup. Three slices and that's it. The Yuzu Shio broth is clean and outward one-dimensional which is why I never order Shio Ramen or even Shoyu. The meat portion here is not overwhelming either. But I guess prices are still fair as they appear to be cheaper as the other ramen places. The beer snack is edamame baked in lots of tempura dough which barely makes it a snack. While the gyoza are good and resemble the Mala gyoza over at the Chicken & Veggie but with way too much mayonnaise. All in all I think it's fair game but taste-wise it lacks a bit. So I probably won't have it that often as I am always willing to pay more to get better and higher quality.
---