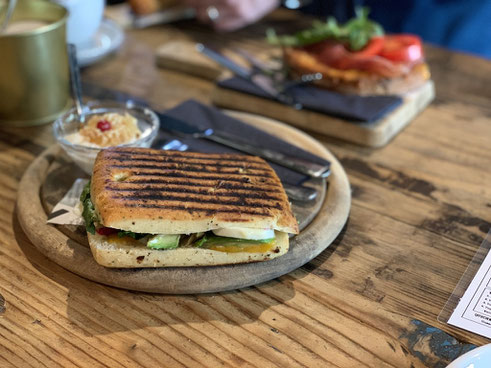 Yet another place that I've heard about in the beginning and it is located basically in my immediate vicinity. But you guessed it I never made it here. Despite the good reviews and word on the street it never was on my radar but I had an appointment and Covent Garden came to my mind. Coffee and breakfast to sum it all up. They have even expanded the place and included the shop next door which is why their bar is right at the center of the place dividing it and making two separate entrances necessary.
A simple yet cozy interior makes you feel at home right away. It's a bit gloomy but still staying at this place feels comfortable and there neat details everywhere. You can't help the smell as they prepare all the food inside the place as I said.
I order from their variations of sandwiches a Focaccia with Bresaola and have a big mug of cappuccino. They prepare the food mostly fresh so it takes a little until you get to eat something. But the products are good and if you are into this type of food then you will like the Covent Garden. In summer they have a lot of seating possibilities outside and it is crowded at any part of the day. But when you get to sit down it is actually very nice, even though you can only get a small glimpse of the Flora Park right across the street. Which reminds me that I need to check out that place, too. But that's another post.
So, duly noted. For a nice sandwich and good cup of coffee, you can always hit the Covent Garden. Won't be last time I've been here.
22 Aug 2020
---