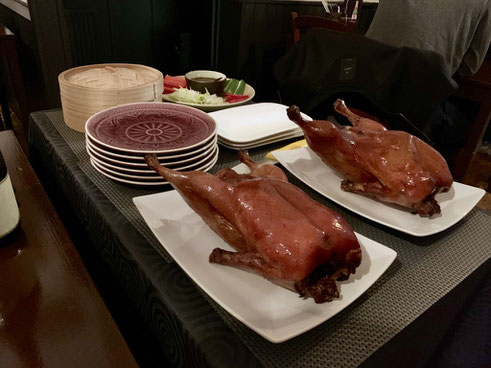 ExSum
The unfortunate Almas with Indian cuisine has gone out of business and made room for the Cooking Dad. The peking duck alongside the corresponding menu is probably (one of) the best of its kind in Düsseldorf.
The decor is simplistic and clean while a larger than life logo can be found on the wall right next to the entrance. You should make a reservation and pre-order a duck. Understandably there is only a limited supply of ducks for each day and once it's out of stock, it's out. Those of you who are familiar with the process know that a peking duck cannot be produced à la minute. But if you get one you will not be disappointed. The homemade Chinese pancakes, in which you roll the duck tranches with vegetables and some hoisin sauce, are particularly outstanding. Fantastic!
18 Oct 2019
Another round at Cooking Dad. Probably the best Peking Duck in town right now. But it could change pretty quickly. A lotta new Chinese restaurants opening up lately.
Tranches of duck are cut in stripes, tagliata style. There seem to be different styles in presenting the Peking duck. I love the way they arrange the vegetable julienne and that they actually make their own homestyle pancakes that are really tasty as well. .
The complete menu is affordable and of high quality. I like what they did with the location and I am very content to see that they seem to be more successful than the unlucky predecessor Almas.
05 Sep 2019
While visiting my go to wine merchant here in Düsseldorf he tells me that he and his wife as well as Lars will go to the Cooking Dad later on and asks me to join. Since I have nothing else to do, I gladly tag along and we all go for the usual Peking duck menu. As I have already stated in an article for Mr. Düsseldorf this is one if not the best Peking duck in Düsseldorf. And it's no disappointment tonight either. We swap the regular Peking soup for wantan soup and leave everything else.
And it's another master Lau that comes out of the kitchen and joints the duck in house style meaning he will cut out two breast filets which are then carved like a tagliata. There are different styles regarding how to joint a duck though. All of which is presented with cucumber and spring onion julienne and their outstanding pancakes. Roll it up with hoisin sauce and you will enter duck heaven.
The skin is crispy and the meat is tender and soft. The second course is the drumstick served with veggies and rice. And even though we are about to burst after the second course, there is a third round with the leftover meat and more rice.
Nobody has room for desserts so we all just take shots and roll out of the restaurant. Happy!
19 Sep 2019
Alex and I meet up at Hartwig's and since he saw my post from the Cooking Dad he proposes to walk over to have another Peking duck as he felt "inspired" by me to have one, too. Well, his last one has obviously been a bit longer ago. Hartwig has one almost every week. But since it's good, I don't object and so here we are. Cooking Dad. Peking duck.
Since my last post here is from last week I will spare you any details.
---