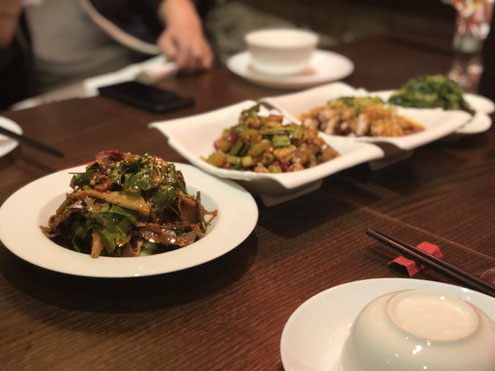 ExSum
Hiding in plain sight on Bahnstrasse a Chinese restaurant has opened up shop very quietly. Szechuan to be exact. Formerly known as the Dubrovnik you will now get far east Asian cuisine and it's packed with a punch. 
At first sight it is a bit irritating as the decor is still mediterranean and only a few decorations now point to the fact that we have left the continent. But what you will get for your plate is absolutely fabulous and seeks its rival in Düsseldorf among Chinese cuisine. 
The menu is exhaustive, the portions large but you will not have to suffer from bad produce.
Postcard-sized pictures and German descriptions assist you in making a choice. I recommend trying some new things indeed. The most fascinating fact is, that no dish is like the other.  Warning: it is Szechuan hot! And for European palates some of the specialties, such as chicken feet, 1000 year-old egg and certain giblets need some getting used to. 
20 Mar 2018
Thanks to my friend Fabian I am getting to try some Chinese restaurants in the rather unpopular main station area. A suburb that most people avoid after dusk and admittedly some strange people lurk around and street prostitution can still be witnessed. Yet despite all this the area has evolved over the last couple of years pretty much like in any other bigger city and a lot of exciting things are happening that deserve a second look.
When you enter the restaurant you can still see the mediterranean influences that the previous owner left but it looks a lot nicer than lot appears from the outside.
The smell immediately takes you to somewhere in Asia without being able to pinpoint it exactly on a map.
Now, the food. It's hard to take pictures as traditional "Asian" cuisine is often not meant to be photographed. There is no focus on presentation as food was for a very long time functional. BUT boy is this good!!! Every single dish we had (and I can't name them all since Fabian and Hans ordered) was simply delicious. Depth, complexity and variety was great. Since it is traditional Szechuan cuisine you need to avoid this place when you are sensible to hot seasoning and peppers. Even for me it was kind of a ride on the edge but mouthwateringly good. This was even better than Three Kingdoms. Best Chinese/Szechuan in Düsseldorf yet. Definite recommendation. Please be aware, these dishes are HOT.
19 Mar 2019
Finish. The ProWein 2019 is over and Fabian suggested to hit the Chuan Wei Chuan as he has gotten very familiar with their menu and is convinced that they offer the best Szechuan cuisine in Düsseldorf. I don't object as my impression the last time was very similar and I let him do all the ordering. Musti and Philipp comply and so we get a wide variety of dishes on our table and just as Fabian claims everything is very different from each other. I am still fascinated by the great range they offer and the quality they deliver. It's not expensive either and the tastes and typicality of seasoning and representing Szechuan cuisine is just outstanding. The service is very friendly but then again Fabian probably accounts for half of their revenues.
I can't even say which dish I liked best as they all were pretty unique and so much to offer for your palate as long as you can eat hot. The level of spiciness is not some compromise in order to meet German or European standards. It's all Szechuan through and through. The pointed cabbage was probably my least favorite dish and yet I enjoyed it a lot. The hottest dishes were the rabbit and the chicken in chili oil. While they had some similarities they were fundamentally different once you dive into the finer parts of the seasoning. If you are able to that is, as both dishes are extremely hot.
Don't be fooled by the strange and trashy entrance and the overall mediterranean appearance when you enter the restaurant. The predecessor was Croatian and much of the interior has prevailed. The smells that you inhale once you enter still won't leave the slightest doubt about the type of restaurant you are in right now. If you enjoy Szechuan cuisine and want it as authentic as it gets, with very good service for a very fair price, you need to get your butt in here.
02 Apr 2019
Isabel is in town and is up for some hot food, so I decide to take her to the best Szechuan place here. It's not as hot as usual but still at a good level. We are having a selection of what I had last time after the ProWein.
Delicious as always even though it was a little weaker than last time in total. But I still love coming here. Good stuff!
22 May 2019
Met up with my parents to have some lunch. Since I told my mother there is a good Szechuan restaurant she wanted to go there so we have some lunch. Nothing new here, again a lot of the classics that I ordered, so I was safe on the food side. Next time I need to try some new dishes but they're not hard to find on the menu here.
The beef slices were rather boring and were pretty pure. Not necessarily a bad thing but definitely a dish that doesn't spark excitement and I wouldn't order it again. As for the rest they're the ones I have had numerous times here. All very delicious and good in quality. It's nice to see that they're doing a steady job. Keep it up!
08 Dec 2019
Our schedule for Kegeln was a bit off so this time we went elsewhere to get some food and Curd suggested the Chuan Wei Chuan. They accept corkage of 10EUR and it's the best Szechuan cuisine in Düsseldorf. We take a tour across the menu and we still haven't seen it all yet. It's actually amazing how they manage to offer such a broad range of dishes while maintaining a high level of quality. Yes, it is hot and yes it is not the prettiest place in the world but when it comes to Szechuan cuisine still my go to spot.