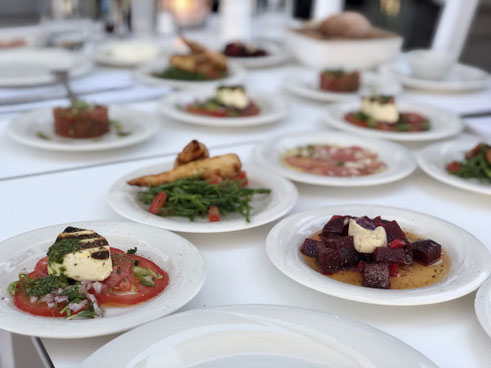 I went for a meet up with Stefania and Lars and she suggested the Cavos Couzina in Essen. She had met the owner Sakis Gonis on a truffle tour in Romania a week before and wanted to pay him a visit. I'm always up for new places and I haven't been out eating in the vicinity of Düsseldorf for quite a while.
You drive out to the middle of nowhere in Essen but the navigation system shows you it's right next to the Ruhr river. The parking space is packed and we have the nicest weather. I am a little early so I take a step inside the building that from the outside is rather inconspicuous.
This all changes once you actually enter the restaurant and find a big light-flooded room in mediterranean white and gray. A huge window leads to the outside and the terrace is jaw-dropping. And actually the view of the terrace itself is more spectacular than the view on to the Ruhr.
We all go for the mixed starter platters that are normally meant for sharing but since we all like the "tapas-style" we decide to pick one each. Sakis later serves us a dragonhead fish plate and we roll out the place full up and happy. As you can tell by the pictures we had beetroot salad, tuna tartare, carpaccio, pulpo tubes and the fish. Well done with great seasoning and good products. It all makes you feel like being on holiday while the dishes have a modern touch to them rather than being traditionally Greek. Doesn't matter! The food is delicious and the Cavos Couzina worth a visit. Even in winter as they use a part of the terrace also as a winter garden.
I will come back!
04 Aug 2019
It's that time again when Stefania, Lars and I meet up for a nice dinner. Claudia and Carsten tag along and we end up in the Cavos Couzina in Essen. The last time we were here was about the same time just one year before. We are friendly welcomed by Sakis and have a wonderful table outside on the beautiful terrace. It's the perfect summer weather to dine outside as it is neither too cold nor too warm to eat open air.
We agree upon ordering two mixed starter plates and some prawns and calamari on top. After that it's a mixed round of tuna steak on risotto, spaghetti with fish, prawns and vongole. To top it all off we have some greek yoghurt ice cream with honey and date tiramisu. Nobody is able to move after dinner and we have a wonderful time with good talks.
As for the food everything is very good and on point but personally I would like a more Greek driven cuisine. It's all delicious and you can see the touches here and there but in my opinion it could be more. Give it a more unique identity rather than being only identifiable as Mediterranean. But maybe that's just me. And just to make sure I'm not misunderstood: the food here is great! It comes with a price tag, too, but the food is great!
So kudos to Sakis and his crew! Can't wait to come back. Hopefully it will be before next year.
---