Unterbilk
Bilker Allee 128
+49 211 1596 3993
Other outlets:
Altstadt
Hunstrückenstrasse 15
+49 211 86813858
 Pempelfort
Beuthstrasse 1
+49 211 38837989
Golzheim 
Uerdinger Strasse 25
+49 211 9159 8873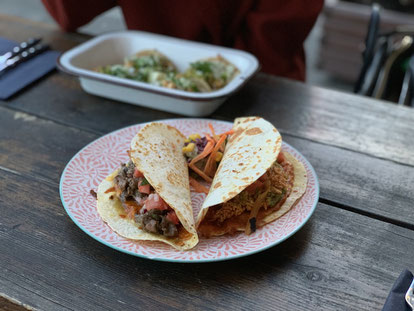 Dine & Dash with Christina in my hood. Luckily we get a table right outside as the weather clears up and it's becoming spring here. Finally!
Some people complain that this place is not "Mexican enough". Whatever that means. There are different styles out there and the fillings they offer are delicious. You choose whether you prefer a bowl, tacos, quesadillas or a burrito. Somehow I always end up ordering quesadillas. You pick out of roughly 20 fillings which are all delicious and you should be able to find something that suits your taste.
What you see or don't see here is Asada (marinated beef point steak) and Tinga (chicken strips marinated in Chipotle tomatosauce and cured onions). Both are umami compositions with good products and good seasoning. Very different from each other which makes it so much more fun exploring the whole menu. The best way to do that is to share the Casita Mix Platter. A ray of Mexico in Düsseldorf. And yes it's way better than one of the TexMex franchise fastfood joints.
.
Tip: Try a premium tequila here afterwards. If you're not that experienced with tequila you might be surprised what a tequila actually can taste like. It's got nothing to do with that red-hatted disinfectant that stands synonymously for tequila in Germany. Give it a shot! It might blow your mind.
.
---