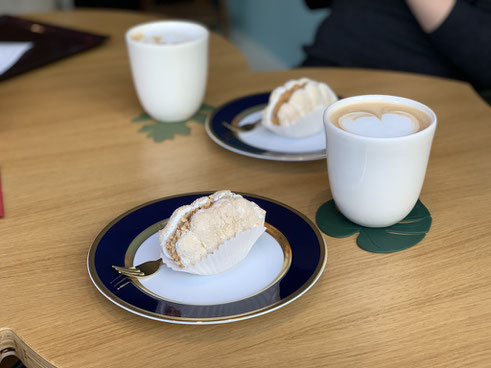 New kid in town and it's located where the old Malu Café tried to establish gluten free food and patisserie. So, now the Koreans have taken over and the first thing I notice is that they actually managed not to mess up the interior. A lot of the old has sustained while there are new tables, coloring and a lot of neat details that make it cozy and friendly inside. They also maintained the children's playing room in the back of the café equipped with toys and teddy bears to give parents a break also and make the coffee break more enjoyable for everyone.
The coffee is actually good and they also offer a wider range of sweets, cakes, shakes and more. Beforehand I was informed that they would also offer Bingsu but I haven't seen it on the menu but I might be wrong. I like the fact that the big sign on the outside wall is in Hangeul and reads Wondromeda. It is striking that there are Asians only at this place when I got there. A bit unusual as this is not the typical area where most of the Asians hang around. Still, their concept seems to be working and it looks like that they are meant to stay. I was even more skeptical about the Namu Cafe which seems to be a hotspot among Asian teens from Düsseldorf and around.
Will need to come back and take a closer look at their sweets and the hazelnut thingie I had was actually really good and delicious. Koreans are not necessarily famous for their patisserie but a lotta things have changed. I'm not sure where they get their goods or if they actually produce themselves but either way it's going in the right direction. Thumbs up and keep up the good work!
13 Mar 2019
Quick fix for coffee and some sweets at Café Wondromeda with Lars after our quick lunch at Primitivo.
The coffee is good and the service is very friendly. They asked us if we were fine with cinnamon in our cappuccino. When we got our cups we understood why. The little star atop the milk foam is made up of cinnamon. Cute idea although I personally would prefer cocoa. Still a nice idea amidst all of the latte art.
Nice place to drop by. Korean Koffee Krew.