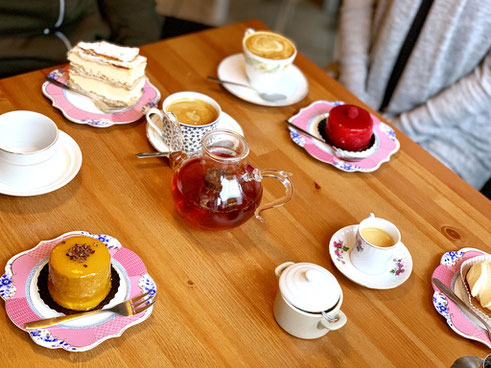 After visiting Patrick at his stand at the Schadow Arkaden we are still craving some sweets and Olivier suggests the Café Barré. Since I haven't been there yet I easily agree.
The small Café is located in Flingern but in a part that I rarely come through. It is a tiny place with probably not much more than 10 seats. Lovingly decorated yet the ultimate homey feel won't kick in. But it is compensated by the caring and charming owner and her "assistant".
When taking a glance into the counter you can see fabulous little tartes and other baked goods which already look very inviting. And you are not fooled they are utterly delicious. Every one of us has a different piece and we all try cross over. I went for a triple chocolate cake but I have to admit that the fruity cakes were the best. Fruit forward, fresh and with so much pressure and perfect harmony. Dessert heaven.
So, if you haven't been there yet, it's definitely worth a try. Sit down, relax, grab a coffee and decelerate.
---