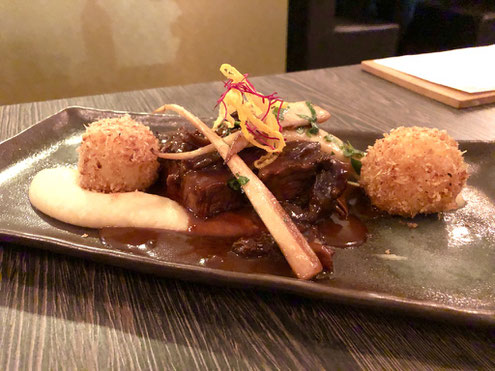 First things first, Byliny is Slovakian and means herbs. The logo could mislead you into thinking that it's a vegetarian place but I can assure you it's not. And while I still mourn the loss of the Güzel that was situated at that very location for more than 20 years, I can honestly say that the Byliny is a worthy replacement. Even though the cuisine is different. And very much so.
When you enter the restaurant you immediately get the feeling that the restaurant has grown and there are many lovely details that leave a feeling of coziness.
The food is exceptional. Chef Norman Metzing is doing an outstanding job and leaves no questions whether or not he was rightfully the head chef of the Péga at the Interconti in Düsseldorf. I won't break it down to the single dishes but the composition and depth of all dishes were upper end. It's probably as good as it gets without having a Michelin star. I was pleasantly surprised and what started great also ended great. Admittedly I wasn't expecting anything close to this but unrightfully so. So hats off to the whole Byliny team that might need to work on their (external) communication but on this level I am confident that they will not only survive but thrive. The service was impeccable, too. So thank you very much of taking care of us! Wine list needs a little work but considering the place is not even a year old, there hasn't been much time to build it up. And while money is always an issue this cuisine deserves a proper wine list that accompanies the delicious dishes. Just to make it a wonderful overall sensation.
Hats off! I am impressed. Thank you to the team at Byliny! Thank you, Timo from Mr. Düsseldorf! Definitely one of the best impressions from the Tour de Menu I have ever had.
---