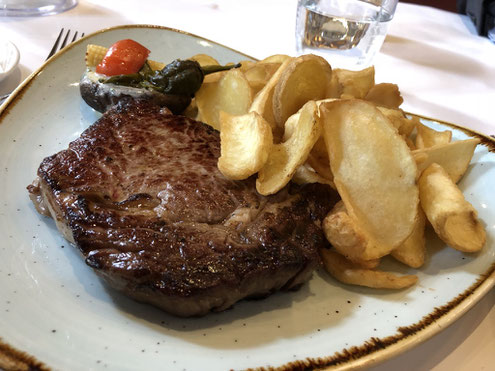 Birthday lunch with may parents at the Brasserie Stadthaus.
Still hadn't been at the newly established Brasserie in the new De Medici hotel right in the heart of Düsseldorf. While I had seen the Brasserie from the inside at another wine event I still hadn't had the chance of dining there. Since my mom also wanted to check out the place as she was curious about the whole site, I made a reservation. You will find friendly service at nice place that has fairly well captured the Brasserie style that was popular by the beginning of the 20th century. It's not old-fashioned yet it still has that flair. 
The food however was just ok. I was missing a lot of the finesse that you can find at places like Hülsmann and Parlin and in fact it had some faults to it, too. The risotto was almost scalloped and the consistency was rather firm. I did not understand the aioli-like viscosity of the Béarnaise sauce and the chocolate ice cream had ice crystals in it. While all in all quality was high, it just was not enough regarding the price tag. If all had been in perfect order it might be justified but the accumulation of mistakes and the missing depth of the dishes was irritating. The steak was good and grilled on point but still rather chewy. When asking about the ice cream which is supposed to be homemade, I get the answer that it's supposed to be that way and they can't explain what I am feeling. Sad excuse and no, the coffee on the house won't make up for it. The ice cream melted and was frozen at least a second time.
I will have to try again at some point to be fair but as the saying goes you'll never get a second chance to make a first impression. And my list of restaurants to try in Düsseldorf is still long and still growing. 
Sorry! Good effort but not enough in my eyes. Restricted recommendation. 
---