Altstadt
Berger Strasse 35, Düsseldorf
+49 211 8693 0710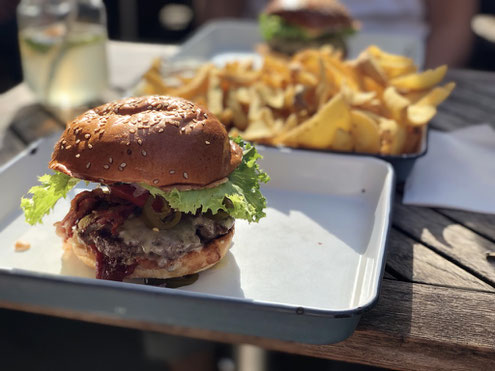 When it comes to burgers opinions still differ on a broad scale. Everyone has his own opinion and you could argue whether it was just a matter of taste. A couple of years back the first of the new generation solely burger-focused joint opened shop and trailed a gigantic wave of trend surfers that also wanted a piece of the pie. A new trend was born: burgers. Many people were convinced that not all of these places could survive but I always argued that if you look at the number of pizza places, döner shops and china diners that there would well be enough room for a sizeable number of burger joints.
Years have passed and some of them vanished already as predicted. Some of them prevailed and one of them is Bob & Mary. It is still my favorite burger in town. There I said it. All in all, I have never been disappointed here. The quality does not fluctuate by much and they still serve the best patties and I like their brioche buns. Homemade sauces and dips and fresh salads and good fries or potato dippers. Of course, there are other places that are not bad around here. You can always go for what your personal taste favors but when I look at that, it that has to be Hans im Glück in Düsseldorf then. Aweful place with slightly better than McDonald's quality. I will never understand what people brings to that place.
I like quality and consistency. Two properties that Bob & Mary always succeeded in providing. If you haven't checked it out, you should. I like their first outlet at the media harbor a tad better but it is easier to get a table down at the Carlsplatz. Enjoy!
03 Feb 2018
Late dinner with friends at Bob & Mary. Rock solid. And I still love it. Say what you will. Still the best burger in town. Not the best I've ever had but still the best here.
11 Jan 2019
When you're on a diet but a charming Iris calls you up to have dinner because she is craving a burger. Well, I rarely say no to a burger and I haven't been here in a while.
It is very crowded and I have to sit down at the bar before I get a table in the back of the restaurant. Even the gallery is open and people are constantly coming in and wait in the entrance area.
Bob's BBQ Bacon it is which is pretty much my go-to burger here. There have been many discussions in the past about which burger is best in Düsseldorf and just like pizza there are many opinions out there. Fact is that Bob & Mary has never yet disappointed me. The patty is perfectly grilled. Medium with a pink and almost raw core. Despite the thin patties. Soft buns with crisp and fresh salad and veggies. I love the potato dippers and their self-made sauces. For me personally, still the best burger in town.
The service is very friendly and attentive, even under the pressure of having to serve a hungry crowd where everyone wants something from you at the same time.
It might not be the best burger in the world but what you get is always rock solid. I'm lovin' it!
---