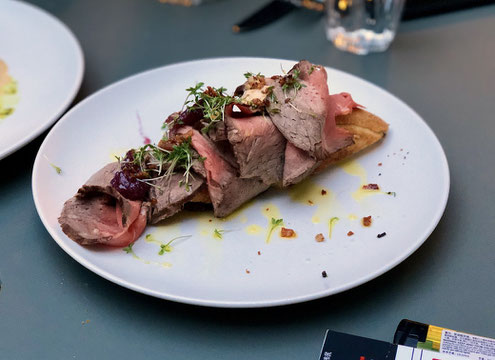 It's just funny how things go. First you don't make it either the MASH or the Cafe du Sommelier for a couple of months. And then all of a sudden you are at both places within four days. And all thanks to Hans in this case. His belated quarterly visit was up and he invited Fabian and me to the Cafe du Sommelier. He was still a little jetlagged but still we met up and went for our little feast there.
If you have read my post about the MASH then you might remember that there is a lot of talk about both the MASH and the Cafe du Sommelier and it's not a lot of good talk.
Again, I have to defend both places as I cannot find fault with the food and the service this time was impeccable. Which was only partly thanks to Rienne.
The food was very good and on point. Every single dish we had. Good seasoning, very good products and probably the best bistro type food that I had in quite a while. From the top of my hat I can think of numerous restaurants in Düsseldorf that should actually strive for this level. And the gap is wide for most of them. I sincerely cannot understand what people are complaining about. It exceeds my imagination that the food is in fact that volatile that it fluctuates between outstanding and outright bad.
So, can I recommend the place? Yes, absolutely. Without a doubt and the cleanest of conscience. Try and see for yourself. The Cafe du Sommelier is bistro style up front and slightly more modern once you walk past the big bar and enter the "dining room". Additionally, it has one of the prettiest and even romantic terraces in Düsseldorf. While the view is limited to the high walls of the courtyard they have managed to make it very "hygge". That's where the Danish heritage surfaces without breaking or disturbing the concept. I will definitely come back soon! That's for sure!
23 Sep 2018
Fair deal with Rienne and Aline who was a fabulous host and sommelière. Grand night with grand people and grand wines. Grand Crew!
Needless to say that the food was very good again. The Bistro Sommelier should be a lot better frequented. It is definitely not the food that is lacking. We ordered across the whole menu and Werner was so polite to invite everybody in honor of his recent 60th birthday. So, thank you again, Werner!
---