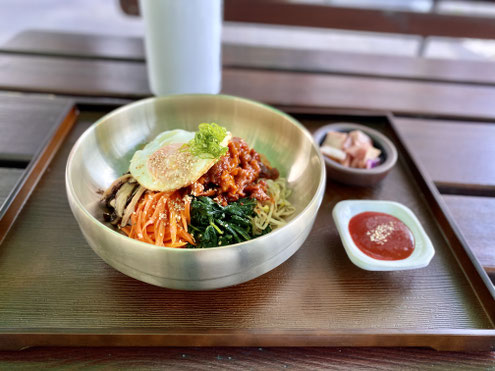 A new Korean is in town and it holds a strange name and I'm still wondering what it's supposed to mean. Then again it will stick probably a lot better than Pozangmatcha which is quite complicated for the Western mind.
The owners from the latter restaurant are the operators of the new joint which succeeds the former Stier Royal. So no more burgers but more Korean which is fine by me. They specialize in Bibimbap. Something that has been "trending" in Korea for many years now. It was introduced to the Korean Air in-flight program in 1997 and won the Mercury Award the very same year. So, it's a thing that's been going on long before bearded men with gold-rimmed glasses and suspenders were having poké bowls all the time. And yes, you could describe it as the Korean version of poké bowls. It's basically a bowl of rice with typically beef, veggies, tofu, egg (either fried or raw) and gochujang (chili paste). There are no boundaries to your culinary imagination as it's a traditional leftover food dish. Bibim bap can be loosely translated as mixed rice.
They also offer the Dolsot ((hot) stone pot) version. The bibimbap will fry as you are eating and the rice gets a crispy texture over time and the egg will cook in the bowl.
It is presented properly and it will arrive neatly at your table. You always mix it yourself with chopsticks, not a spoon as the spoon would squash the rice. The ingredients are fresh and the meat is quite tasty, so all in all it's a proper bibimbap with authentic taste. Hard to believe but I've seen many places that were able to even fuck this simple dish up completely. The sides and appetizers are not outstanding but they're still good and tasty. If you enjoy bibimbap or generally are a fan of rice bowls, you should try this Korean rendition. 
28 May 2020
13 Jun 2020
13 Aug 2020