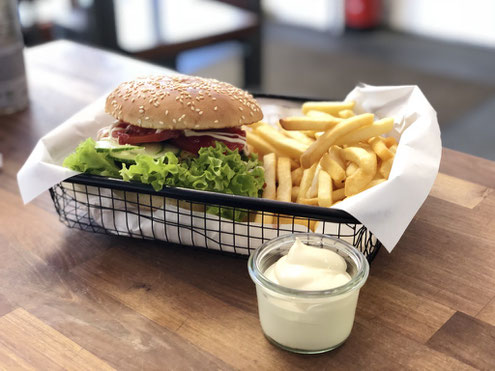 Healthy breakfast. Sesame roll with clean salad and squashed meatball and a potato salad on the side.
Needed this after a long day and night.
Beef Brothers in Düsseldorf. On a very positive note they still do what they do, in the fashion they always did it. It's not high end but it's good and reliable. Still an easy recommendation.
13 Sep 2019
Alex and I are heading out for the Fortuna game and we want to have dinner before we get to the stadium. As we meet another friend in the city, we agree on having some burgers at Beef Brothers. It's been a while since my last visit, as I usually pick other options when craving a burger.
Fortunately, not a lot has changed. It's still a very nice burger. Yes, the fries are not home made and they could invest a little more into their buns. Especially as their prices seem to have risen significantly in the past few years. But I still love the patty which is grilled perfectly even under stress with the coarse structure and well seasoned. The salad and the toppings they use are always fresh and tasty. Sauces are homemade and a matter of personal taste. But all in all, it doesn't take much more to make a good burger. And even after all the burger hype this place is up and running and still delivers a very good one.
---