Schirmerstrasse 54, Düsseldorf
+49 211 3677294 (no reservations)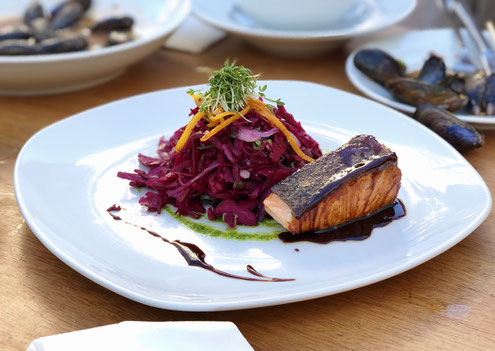 It's a sunny Friday and I am having a dinner date with Jasmin and Linus. It's the famous Bar Olio which has been around for years and years and even survived the restructuring of the surrounding former freight depot. Locals still miss the old Les Halles that hosted many parties and served even as a decent restaurant with an extensive breakfast buffet. The reason why I have never visited the Bar Olio before was simply because you can't make reservations and it's ridiculously packed at weekends. Speaks for their cuisine. Although not necessarily.
As I arrive at the terrace it is already crowded and people are already sitting sidelined no the long benches at the wall in the hope to get a table after the first seating is gone. Despite the sun it is rather chilly as the location is situated a unluckily in the shades of the tall surrounding buildings.
I am hungry and we decide to share numerous starters and put them in the middle. I am little off-put by the fact that the menu is a wild mix of what seems to be Japanese and Italian cuisine. I have high expectations as this place was recommended and highly praised by friends whose opinion actually matter to me when it comes to food. High expectations have the downside that you are easily disappointed. However in this case, the food did not.
We ordered pretty exhaustively from the menu as you can see in the pictures. All the dishes were on point and the fish quality was on par with the top Japanese restaurants. Fascinatingly the combination of Japanese and Italian cuisine worked out on both ends, which is super rare. So, I need to tag along and praise the Bar Olio for its formidable cuisine. Even the wine list holds some interesting positions and is priced very fairly, just as the dishes are.
While I regret I never went there before, I have to admit that it will probably take some time until I will be able to visit the Bar Olio again. Sadly So, if you've never been here you should check it out at least once. Thank you, Jasmin and Linus for making me go!
03 Jan 2019
Arrived on Wednesday and a day later I am out with Jasmin and Linus. Since a lot of the restaurants are still closed we decide not to overcomplicate things and just hit the Bar Olio.
And we do it as we always do and cut across the whole menu until we explode. Pork belly, Salmon on red cabbage with teriyaki sauce, octopus with cale and mushrooms, venison tartare, Panzanella, Hamachi, Udon Bolognese and what not. It was all very good while I didn't get the pricing of some of the dishes. Especially because some dishes were very fair. Service was very friendly, so overall it was a very pleasant stay.
29 Nov 2019
Having a night out with Jasmin and Linus and we agree on hitting the Bar Olio. A place that I rather rarely go to because it is too complicated to actually get a table here. But we meet up at 17:30 and it's pretty quiet for the Bar Olio on a Friday night. We have a table to the right, next to the window and we make ourselves comfortable.
As you can see we order way too much food and have a couple of glasses. There is a new chef in the kitchen which gives the menu a different Japanese spin than before. And of course, you can still order all your Italian classics. First time I actually think about it that the combination is weird but both worlds are doing just fine. Fortunately they don't try to mix up both worlds in a fusion attempt like many of the abominations out there. It's not that I have anything against fusion cuisine but it means much more than just to put a sushi maki on top of pasta (random example). Most poor attempts at it have ended it in fucking up both worlds and a raped plate in front of you that wasn't up to par in neither world.
Also, very easily to tell we stuck mostly to the more Japanese influenced dishes except for the main courses. All the dishes were on point and it's rather a matter of taste which you prefer. Pack your wad of cash as they still don't accept any plastic. The wine list is taking a turn for the more natural stuff some of which is very much enjoyable. It's not my preferred taste in wine though and I'm waiting to see when there aren't any wines left that I actually enjoy.
Still a fabulous place to go and yes, of course, the place is packed when we leave with people desperately waiting for a table standing in the entrance.
Fabulous meal!
27 Jul 2020
---