Behrenstrasse 44, Düsseldorf
+49 211 87969319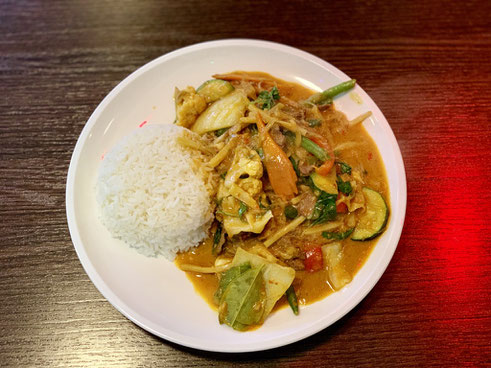 ExSum
Named after the ancient capital of Siam you can find the little premise next to a gas station in Flingern. Butsi Rosik cooks old traditional recipes which she was taught by her mother.
Even if the place looks like a bad fast food joint from the outside, the food that you will get on your plate is far from the usual monotony. All of the dishes are freshly prepared by the owner personally. If it's not spicy enough for you, you can get a private tutoring on chili spices and which of the offered spices suits your dish best. Plan ahead and bring some time because even if the place looks abandoned sometimes there are several pre-orders in queue. Exciting Thai cuisine way off the curry mainstream.
28 Nov 2018
Once again do not be fooled by appearances. What just looks like another bad fast food joint is probably one of the best Thai places in Düsseldorf. Opinions as always differ but when you enter this place you will immediately notice how clean it is. It is not very cozy nor is it very pretty. But the food is good. The selection of different curries can be a bit overwhelming when you look at the board hanging above their counter to the right. It is a bit curry-heavy but then again you can't do everything in good manner.
The curries here are very good, ped ped (if you want to) and spiced up with very different chili powders, pastes and freshly cut. The ingredients are also fresh while you can always argue the meat quality. Still very delicious and pretty authentic.
Hidden gem for sure. Falls into the category if all Thai places in Germany cooked like this, I would have one less problem. Tasty!
06 Feb 2019
Another quick round at the Ayutthaya in Düsseldorf and I'm in for a fiery bit. I hate numbers in menus but it actually makes sense here, so my pick is No. 25 Gai Pad Cha. Chicken breast with green pepper seeds, bell pepper, Thai eggplant, chili garlic, Krapao (one of the three major thai basils), lemon leaves and soy sauce. When you take a look at the picture it might just appear like another ordinary dish that you can get at any thai fast food joint with some veggies whipped up in a very substitutable sauce, garnered with some rice. But it' not. Apart from the fact that the four chilis on the menu are meant seriously and are not to be taken lightly, you will get a very tasty and hot thai dish which is as authentic as it probably gets here.
Admittedly the place holds 60 positions on their menu and the owner is not always in the best mood. But so far I haven't had a bad dish here. It's all prepared right there in front of you and while the phone keeps ringing during rush hour you can see Butsi Rosik whirling around in her workspace and creating all these wonderful dishes. If you haven't visited yet, it's definitely worth to pay a visit. Especially if you love Thai food.
---