Am Wehrhahn 71, Düsseldorf
+49 211 1646238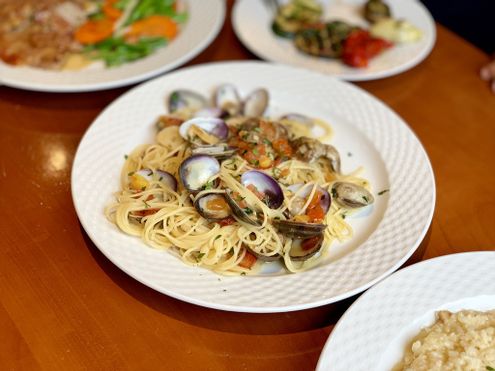 Long time no see. After spending the afternoon at LaVinesse with a little Riesling tasting we decided to have dinner at Franco and Toni's place.
I've missed this so much and I've written before this is the best Italian (Sardinian) place in town. The biggest disadvantages are that they only open on Fridays and on Saturdays for dinner.
As we are five people we order a couple of dishes across the menu to share. All of them are excellent. Simple but just delicious. I don't know how Toni does it sometimes but there's a lot of butter involved. Which is a good thing. Pasta al dente, meat on point and high product quality for very fair prices. I won't get tired to stress this.
If you haven't been here, it's time!
28 Jul 2018
After the spontaneous happening at Private Wein Compilation we went on to get some food. And as Christoph was never at the Antichi I wanted to show him the little place. Everyone else agreed and so we went with ten people to the Antichi Sapori to visit Franco and Toni.
I am always a nervous when I introduce the Antichi to new people and this time none of them (except for Janni) knew this place. I always worry in vain cause my two Italian, sorry Sardinian, friends always perform brilliantly. We take a cross cut through almost the entire menu and everyone is full and happy afterwards. From Antipasti to lamb and veal ragú, everything was on point.
Great evening and feast right outside of the little trattoria. I can see only happy and content faces. Even our hosts seem to be glowing a little. .
Spreading the love and the name for thy name shall be heard in and all around Düsseldorf!
Note to myself, I shouldn't worry at all when taking other people to the Antichi for the first time. Not once have they disappointed anyone. And I can rely on my palate.
Thank you everyone for a great night!
07 Sep 2018
05 Oct 2018
Meeting up with Lars for a little lunch date. It is a quiet day and we are greeted warmly by Franco and Toni. The antipasti are smiling at us but we decide to share the carpaccio and and pasta. My choice is easy and I go for the Spaghetti Vongole with bottarga and Lars tries the Spaghetti Bolognese. 
My dish is a little on the salty edge and I ask Franco about it who kindly explains that they needed to buy French clams which are for some reason a lot saltier than the Italian ones they normally use.
Still, consistent quality and very good value for money. Best choice.
04 Dec 2018
Last meal before taking a ride to the airport. Just grabbing dishes across the menu to fill up before it's bad airplane food time.
• Spaghetti Vongole
• Saltimbocca alla Romana
• Risotto Porcini
• Antipasti
• Mousse au chocolat
14 Dec 2018
When in love with Italian cuisine you just need to get here. A quick meet up with Nadine and Ingo to grab a bite. .
They haven't been here since I first took them out that night when we got stuck in an elevator 😂. Probably because we all ate too much and had too much good food at the Antichi. Always a treat!
09 Jan 2019
Business meeting with Franco, Toni and Lars to talk about a few changes that could help the little Antichi to gain a spot on the restaurant map in Düsseldorf it deserves.
And of course, we have some dinner, antipasti and pasta with octopus. Needless to say that it was delightful. These guys have been preparing food with fresh ingredients since they started some 20 years ago. Their menu changes (in parts) daily and is depending on what vegetables, meat and fish they can get at fair prices.
We have developed a couple of ideas to push the Antichi Sapori forward and will see what kind of impact they have.
Stay tuned!
08 Feb 2019
Just another night at the Antichi Sapori... Grand evening as always!
22 Jun 2019
After having a couple of glasses at the LaVinesse the hunger kicks in and we decide to visit Franco as we all haven't been there for a while. The pictures don't do the dishes justice as everything was on point once again. For the first time I have my own separate dish as Zonk and Lotti opt for their own dishes. Fair enough, I love my springchicken that's all crispy, crunchy while the meat is tender and soft. I swap the side potatoes for some delicious gnocchi and with the antipasti up front I am more than content. Great job, Toni and Franco! Grazie mille!
07 Sep 2019
It's Adolf's 70th birthday today and he has rented the Antichi Sapori. I haven't been here in a while and since I always enjoy to be a guest in Franco and Toni's house I am looking forward to it. Swipe through the impressions of antipasti, spaghetti vongole, spring chicken, guinea fowl on lentils and fish in mustard sauce, tiramisu and panna cotta. Also find some selfies. Grand meals, grand night!
What a feast! Thank you Adolf for the invitation!