Unterbilk
Friedenstr.65, Düsseldorf
+49 211 41726721
Flingern
Ackerstr.161, Düsseldorf
+49 211 41720985
Stadtmitte
Steinstr. 20, Düsseldorf
+49 211 43638094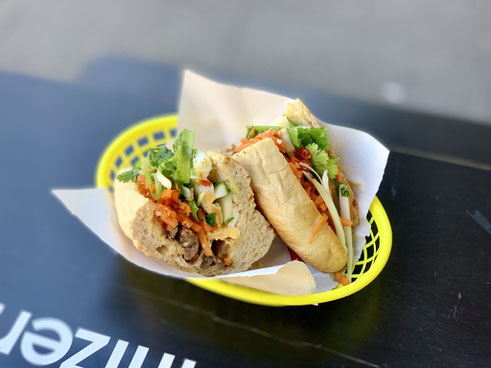 This place is no stranger to me but I usually order from here via foodora and have their delicious "sandwiches" delivered right to my front door. But this is actually my first time in one of their three restaurants. The An Banh Mi has been around for what feels like forever but I tried it for the first time maybe just one or two years ago. So, first time here with Iris.
Banh mi stands for bread of all kinds in Vietnam. Basically you will have a baguette which was first introduced by the French in Indochina during the era of colonialism. You will often find mayonnaise, coriander, pickled carrots and fish sauce in any type of Banh Mi. Many of the variations have scrambled eggs. Here on the other hand you can order a fried egg as a topping for any banh mi you might choose.
I go for my favorite Banh Mi with grilled pork. I love the baguettes here as it is fresh and the crust is not as tough as a regular French baguette, so you don't have to worry about your palate getting ripped wide open when having a bite. I love the sauces they use and how tasty and rich the meat is. Almost healthy food. Not fat driven. And the prices are very fair. As a starter we order some summer rolls with chicken. I'm not sure about the other dishes here. I never order them because I always fall for the Banh Mi. If you like Vietnamese food, you will love the An Banh Mi. One of my favorite places here for sure.
27 Jun 2019
In the summer time it's hard to find food that is not too heavy and still satisfies you, especially when you're not that salad and bowl kinda guy. I love to revert to Banh Mi and it's a great thing that we have An Banh Mi here in Düsseldorf. Otherwise it would have to be invented or established. I just love these Vietnamese baguettes that come at a fair price, don't just fill you up with crap. If you have never tried one, I absolutely recommend to check these out. Renounce the Pho and the fried rice or whatever else they have on their menu and choose a Banh Mi. Especially now with the hot temperatures you won't regret it.
31 Jul 2019
Quick pit stop. It's still hot outside and I don't want a salad or anything greasy and the Banh Mi come to mind. Paired with chicken summer rolls, I make sure I'm not leaving hungry. Definitely an option in extreme heat. Love these "Vietnamese baguettes" anyway. 
---